Reverse Migration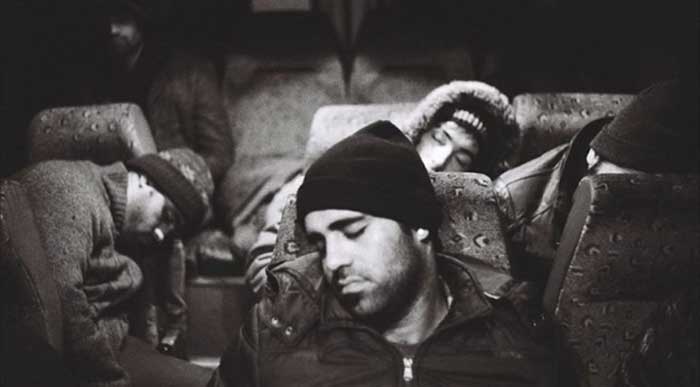 ---
After our month-long travels across southeastern Europe, Rowan and I arrived at my brother and sister-in-law's apartment in Ankara ready for a home-cooked meal. We were (over) fed in typical Turkish fashion: first lentil soup, then homemade dolmas and hummus, feta cheese, various salads with sprigs of fresh parsley drenched in lemon juice, bowls of dark olives, moist flanks of baked salmon, the ubiquitous basket of crusty bread. Then slowly we sipped the thick frothy demitasse of Turkish coffee, eating slices of flourless chocolate cake, distributing the gifts we'd brought, feeding my four-month-old nephew, and placing him in his crib.
Only then did my brother and sister in law ask about our travels.
In late June, we'd left my family—vacationing in Marmaris on the Aegean coast of Turkey—and flew from Dalaman to Vienna [1]. The flight was uneventful. We didn't even go into the city. Nine years earlier, Rowan and I had taken a train to Vienna from Prague after our wedding there. Instead, at the airport, we boarded a bus that took us directly to Bratislava, the capital of Slovakia, a country we knew little about [2].
The Bratislava bus station was not far from the city center. After some aimless wandering, I found a tourist information center where we were given a city map and accommodation recommendations. Rowan and I booked a tiny room in a hotel not far from the city center. It cost sixty euro a night, the most we would pay for a room on our entire trip. With its pedestrian-only compact cobblestone streets where castles and churches dotted the landscape and wine bars and cafés spilled onto the sidewalks, the eighteenth-century town set along the Danube was a miniature version of what Americans must imagine Europe to be.
We had arrived on the day of the annual Coronation Festival, which reenacts the eighteen kings and queens coronated in Bratislava. This year's festival centered around the 1711 coronation of Charles VI of Hungary. More than 150 Slovakian actors in period garb paraded through the streets, banging drums, playing instruments, and cheering. They gathered in the heart of the square. Tourists and locals drank from glasses of white wine from the concurrent wine festival, which began at nine in the morning. For those who couldn't see the stage, a large screen broadcast the long and tedious coronation. The Pope's many rings were kissed. Bible verses were read. Allegiance to God and the nation was sworn.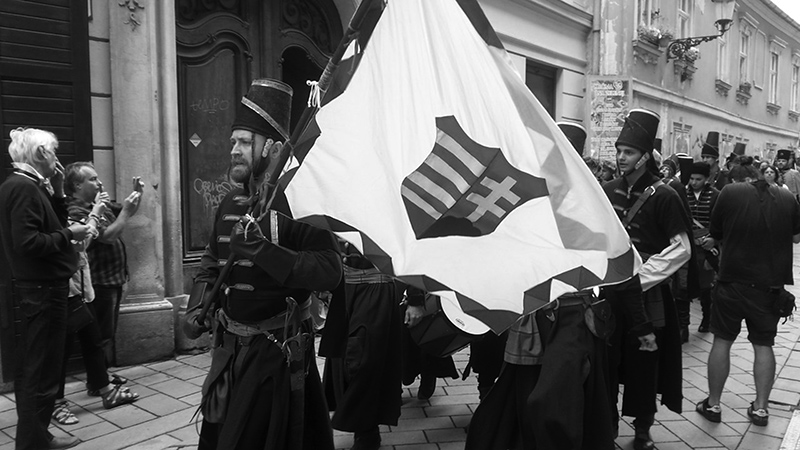 The Coronation Festival in Bratislava
Rowan and I later wandered those cafés and bars until shortly after midnight, where European couples and British boys on holiday drank cheap bottles of regional wine. The locals were friendly. Perhaps the festival put them in a good mood. The next morning a woman at the front desk of the hotel gave us directions to the train station, and we decided to walk the two kilometers to save the taxi fare.
The train station appeared dilapidated, almost a ruin [3], before we realized we had arrived on the back side of the building. We crossed the rusted tracks, stumbling around broken glass and cracked concrete shot through with dried grass. This side of the train station—ghostly with its abandoned, sloping tram stop shelter—would be filled with the homeless at night. On the other side, a modern transit center hummed with electronic signboards blinking the latest arrivals and departures. Sleek escalators led to two platforms where trains arrived and left to other European cities. We bought our tickets for Budapest, three hours away. There was no internet service, nor English-language newspapers. We waited in a tiny coffee shop, drinking Nescafés and sharing a bag of chips until the train arrived.
Keleti train station [4] in Budapest was both grander and more chaotic than the one in Bratislava. The floors hummed with people trying to get in and out. Overhead a large arched ceiling covered the central part of the capacious, multistoried building. It would be easy to lose one's way in here. Although the city's economy depends on tourism, little English was spoken and there was only one information booth, at which a middle-aged man behind a plastic window gruffly exchanged our euros at an especially bad exchange rate. Since they didn't offer any real maps, I showed the man the address for our hotel, which I had booked on the internet, and he gestured down the street ahead of us. As we walked down the main street in search of the address, we wondered if it was a mistake.
The "apartment," rented for twenty euro a night, was part of a complex with an interior courtyard that required three security codes to access. The room itself was part of a suite. There was a lumpy bed and hole-ridden sheets, a nonfunctioning microwave, and a lukewarm shower. But it also had a fridge and a hotplate and expansive parquet floors. Windows swung open to the noisy streets, giving our lodging the pleasant atmosphere of a struggling boho artist.
Rowan and I walked for a few kilometers toward the river and discovered the more expensive, cleaned up, touristy part of town, where slim Europeans sipped Starbucks coffee and chilled glasses fröccs, or rose wine spritzers. In Érzsebet square locals gathered and drank cans of beer in the worn patches of grass, sharing crackers and other snacks, legs stretched to catch the last of the setting sun.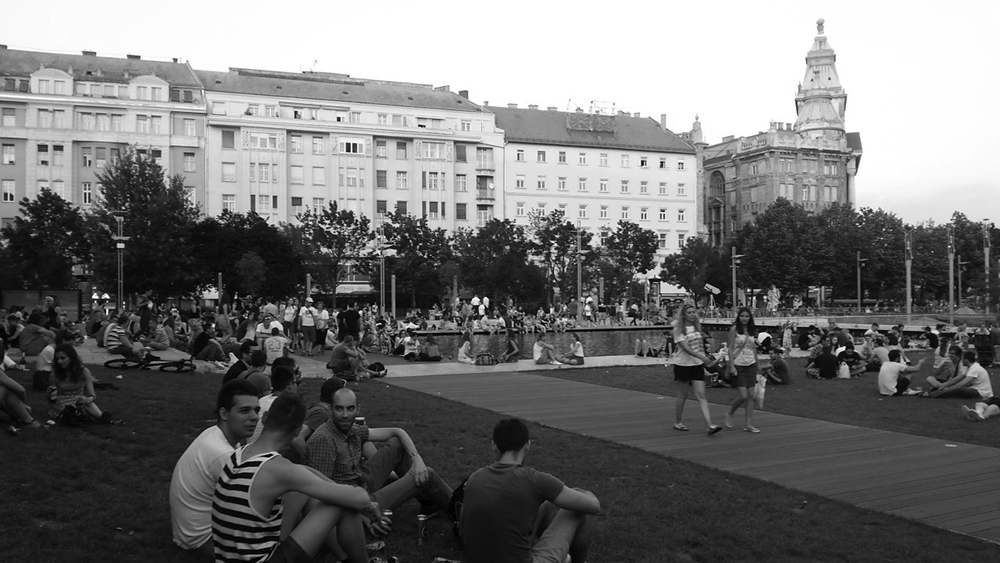 Érzsebet Square, Budapest
I could understand how tourists would fantasize about the city. Baroque, Art Nouveau, and Classicist buildings lined the streets. There were cheap drinks and relaxed, communal public spaces. But random fires burned openly next to trashcans beneath the marble. A woman yelled at Rowan for sitting on an empty bench in front of her shop at the train station. No one spoke of them, but they were there already: quiet, desperate, dark-haired people sleeping on the floors of Keleti station, waiting for trains to Vienna and beyond [5].
Having taken the sleeper to Bucharest, we were unable to locate our hotel. There were no tourist information centers or city maps of any kind at the station. Rowan had written down the name of the subway stop he thought was located near the hotel I had booked online called, wrongly we discovered, City Hotel Bucharest. Advertised as one minute from Plaza Romania, we were optimistic about its location.
However, we got out in some area very far from the city indeed, and after walking around aimlessly, unable to find the street, we finally asked someone and discovered that we were still many kilometers away. We flagged a taxi to the hotel, which, despite its decent reviews, was about an hour from the city center, in a rundown suburban area of town. To get downtown, we walked one kilometer to a shopping center where a tram, for which no one seemed to pay the fare, took its riders to a distant subway station.
Maybe it was because it rained the whole time, or maybe it was the hotel's location, or maybe it was something else entirely, but Bucharest felt strangely deserted. Rowan and I rode a double-decker tourist bus around the city. We never disembarked. One British couple sat in the seats behind us, reading out loud from their guidebook. When we ducked into a restaurant during a sudden rainstorm, we were the only customers, and the waiter greeted us warmly and with excellent English. We ate stew under an awning outside the restaurant and watched the water gush down the side streets. When the rain lessened we made the long trek back to our hotel, only to return to the city the following morning, to take the train to Brasov.
With its verdant hills and bucolic farms, Brasov seemed worlds away from the rainy, dingy city we'd just abandoned. We knew nothing about Transylvania, except that Dracula's legendary castle was to be found there, so we were surprised to find that the area is a popular vacation destination for thousands of tourists from across Europe and Russia. Tables lined the center of Brasov's pedestrian street, where visitors and locals ate plates of cake and pastries and smoked. They drank wine and beer no matter the time of day. Carafes of rosé were cheap and refreshing under the hot sun. Boys barely in puberty yet drank beer and smoked cigarettes without shame.
One evening we moved from the outdoor café into a bar that was featuring karaoke, where families and large groups of friends gathered to perform. The highlight of the evening was a Romanian who falsettoed his way through "Staying Alive," followed by another who sang "New York New York" with gusto. Later a middle aged-looking guy with poor posture sang an off-key Tupac's "California Love," with surreal earnestness. His wide grey-and-white-striped polo shirt glowed a queasy green under the disco lights of the club as he sang intently to the lyrics that scrolled on the screened wall.
With day trips to Dracula's castle and the gingerbread style architecture village of Sighisoara, we enjoyed Brasov so much that we kept extending our stay there. Through the graffiti-covered windows of the train I watched the passing bucolic farms where families still traveled by horse and wagon, and I imagined that all the villagers knew each other and didn't need the outside world.
When the apocalypse happens, I thought, these people will be fine. The thought startled me. It seemed to arrive from somewhere else, someone else. What did I know? How many dreamed of leaving, of going to Brasov? How many might be huddled around a street fire in Budapest? My fantasies revealed a chasm between worlds, one of my own ignorance.
After five days in Brasov, it was time to travel to Greece. Only a few weeks remained before we were due back in Turkey.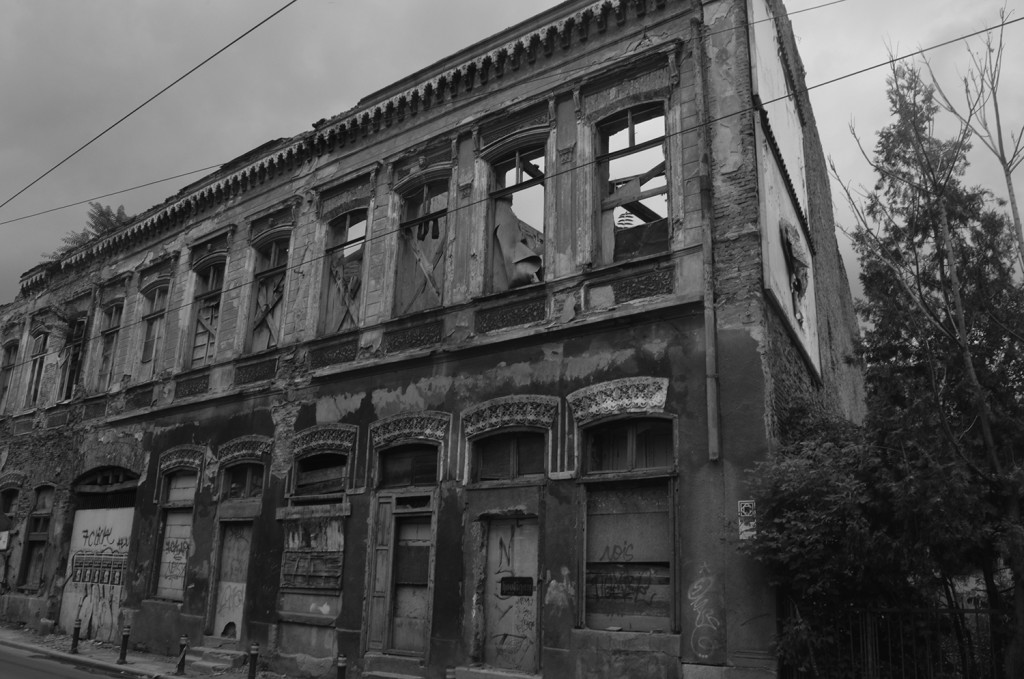 An abandoned building in Bucharest
Thessaloniki came alive in the evening, with Greeks filling the coffee shops and restaurants next to graffitied ruins until the early morning. The country was on the brink of defaulting on its loan to the European Union, and possibly be kicked out of the EU. The banks were closed but ATMs would spew cash for anyone with a foreign bank account; Greeks waited in long lines to withdraw their 50-euro daily limit.
The city looked depressed, but not defeated; I had seen many towns in the States similarly shuttered, towns that had little chance of the comeback that Thessaloniki held. Though not the town itself as much as the people. A Greek man bought a boy who suffered from a clubbed foot a little simit (sesame seed roll), and together the two strangers observed a passing woman in a dress with bold blocks of color. She had tanned skin, large gold hoop earrings, and wedge shoes, and I noticed as well how she stood out, an avatar strolling the promenade next to the sea as the town clock struck.
Rowan and I rode another bus to Alexandropoulos, where we took a ferry to the rocky island of Samothrace. In the village of Therma, where we stayed, we ate fresh fish and black goat, the specialties of the island. The crisis had driven away most of the tourists, yet because Greece's currency was the euro, the locals could not lower prices as dramatically as in the non-euro countries we'd traveled in. On July 19 [6], we crossed the border back into Turkey on a private bus, spending two nights in Istanbul before flying to Cappadocia, where fairy chimneys and ancient dwellings were carved out of the sandstone rocks of the landscape itself. In the mornings, before it was too hot, balloons drifted across the old cave monasteries whose ceilings still bore chipped faded paintings of Jesus.
The hotel's breakfast was a pleasant if predictable spread of assorted meats and cheese and yogurt. One older couple—he hanger-thin, she in her headscarf and as broad as a babushka—shared large plates of sliced bread, ham, cheese, and olives. They seemed the type of old couple who had been married for years, who had shared the whole of their one life together, enjoying a vacation now that the kids had grown. But one morning Rowan had breakfast alone. He told me that the couple had been down there eating massive amounts of food. Plates piled high with meats and cheeses. Gorging themselves. An hour later, when I went down to eat, they were there, still eating.
With their conservative, faded village attire, they suddenly didn't look like tourists at all.
My brother asked if I had gained any particular insights. I said no. Had I lied to my brother? Or to myself? We said goodnight. Rowan and I slept in the spare room. Lying in bed, I thought about the trip. There had been no air conditioning in the rooms where we stayed, and for inscrutable reasons, nobody believed in fans, so I got used to sleeping with the windows flung open for a hopeful breeze. At night my hair stuck to my neck, and we could hear sirens and arguments and neighbors gossiping outside, all their windows open as well, and then in Turkey we heard too the pre-dawn call to prayer.
In the mornings the sun would sear the room, wherever we were. It seemed to be stalking us. Rowan and I each wore the same few shirts and shorts with sandals or sneakers, possessions pared down to what could fit into a backpack or gym bag. Rowan would occasionally fill shower stalls or bathtubs with water to swish and wring the filthy clothes until the water clouded over. Then we lay the clothes in the sun to crisp dry in an hour. And as I lay there, not sleeping, wondering if I had any insights, my shoulders ached from days of carrying a backpack in the relentless heat.
Back in Ankara, Rowan and I took the subway to Ulus [7], the old city of Ankara, hiking up the hill to the thousand-year-old Ankara Castle, which overlooked the city. Somehow we lost the way, ending up on the streets of non-tourist Turkey. Over so much travel, the intentionality and fiction of tourist Europe had erased these places from our imaginations. Women in headscarves pinned clothes to a line, and children stared from their compact houses. Tiny minarets and mosques called to prayer, competing in an ethereal echo. Trying to find our way, we asked a man blocking what remained of the dusty road. He raised his hands. No, he said, over and over, and directed us to turn around. Finally, we made it to the top, where the Turkish flag whipped in the wind, and men played traditional songs against the castle walls for change.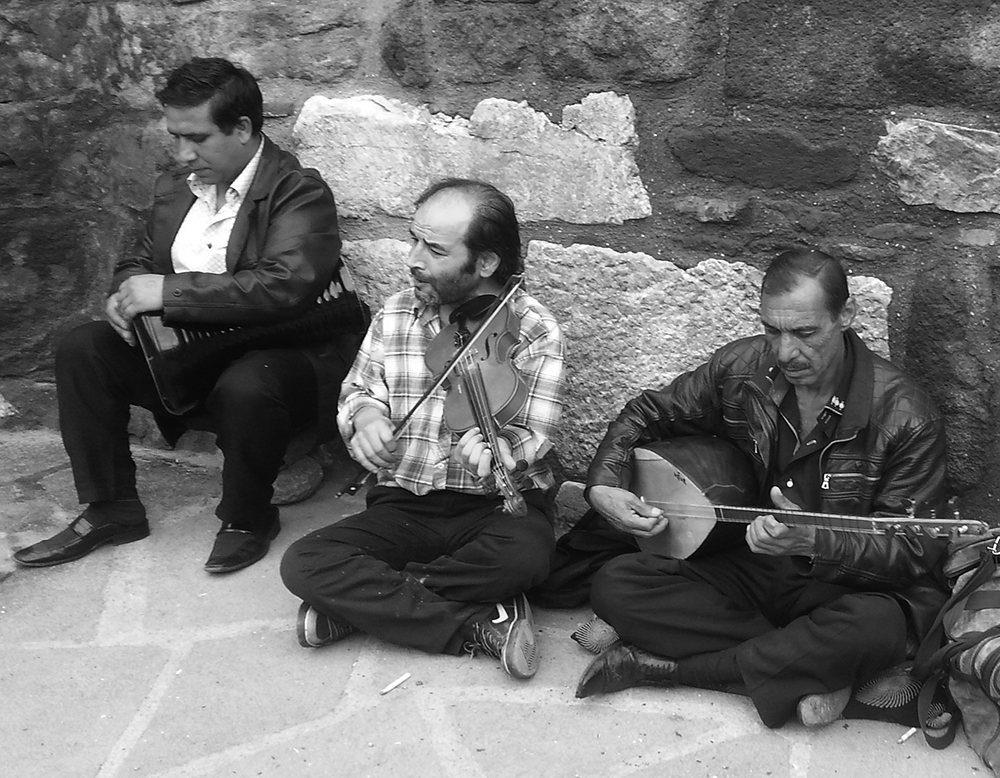 Musicians outside Ankara Castle
Then, before returning to Istanbul [8] to fly out to Atlanta, Rowan and I, accompanied by my brother and his wife, went on one last trip to Beypazari [9], a small town outside of Ankara known for its local jewelry, Ottoman-era architecture, and an annual carrot festival. There had been a fight just before we arrived. The streets were blocked, filled with smoke. People were shouting. The police had arrived already. We don't know what had happened. As the smoke cleared, we watched along with the rest of the bystanders as the police shoved a man into their car and sped down the street. Quickly the people resumed their daily routines.
I bought an earring and necklace set of silver filigree for my mother-in-law, and we ate a pleasant meal outside in a restaurant that overlooked the town: soup and salads, lamb served in a clay pot, baklava and Turkish coffee. In the parking lot, a small dark-haired boy in ragged clothing came up to us, his hand thrust out, speaking a language that wasn't Turkish. Another boy, perhaps his brother, who was a few years older, watched quietly before joining in, both his hands outstretched, and then a girl, the oldest, emerged. Around five, seven, and nine, maybe siblings, hard to know to know for sure, they could have been younger.
I had encountered destitute people of all stripes along our trip, the unacknowledged texture of modern cityscapes. On the streets and at the train station in Hungary and in Romania, signs in English implored us not to give money to beggars, that there were programs for them, that giving money did not solve the problem, that it encouraged dependency or worse. Women on sidewalks holding babies, stray children, the man in a wheelchair in Thessaloniki; and back in the States, the man who sleeps under the bridge across from our house, in one of the better neighborhoods.
We didn't know about the extent of the Syrian refugee crisis then. But these children almost certainly were three, just three, of the millions that have been dispersed, drowned, deterred, resettled, or left in camps. Over the following six months, hundreds of thousands would make their way by boat and train and road from the Turkish coast to the shores of Greece to Romania to Budapest to Bratislava to Vienna. They would follow our path, in reverse, until the fences and closed borders forced them back. Had we not seen them at all? Had we chosen not to see? Behind the too-clean squares, the festivals, the cafés and restaurants, the police, along the train lines and the bus routes, had we been among them all along?
We didn't know if those children had a mother or a father, orphans, or something in between, or worse. We didn't know what they had seen. My sister-in-law, Ozgur [10], reached for her wallet, and offered them a ten lira note; I only had a few coins left. It was nothing. Even now I'm embarrassed by how little we gave. For a moment, though, the youngest boy was bursting with joy, though the brother looked through us unmoved. The older boy, just old enough to understand how the future draws its outlines from the present, and what that means for them. His eyes, implacable and dark: he is trapped here, and for no reason other than luck and the lack of it, I am not.
---
[1] On October 11 Vienna's Social Democrat mayor narrowly won reelection after an unexpected challenge from the anti-immigration right.
[2] On August 19, Slovakia's Prime Minister said his country would accept only Christian refugees because the country had no mosques for Muslims.
[3] The day after the November 13, Paris attacks the Slovakian PM said, "We are monitoring every Muslim in our territory."
[4] In early September, the train station was closed in an effort to keep migrants traveling to Germany. It reopened the station but barred entry to migrants. Thousands, displaced, camped, had bought tickets to Vienna to make their way to Germany. Later that month, Hungary closed its border with Serbia.
[5] In October 16, Hungary shut its border with Croatia, building barbed wire fences across the area.
[6] On July 19, a few miles from my home in Chattanooga, a young man opened fire on two military facilities, killing five.
[7] On October 10, at the nearby bus station, an explosion kills 100 protesters at a peace rally
[8] On December 1, two pipe bombs injure five at an Istanbul metro station.
[9] On September 8, pro-Kurdish protesters clashed with police in Beypazari, resulting in seven wounded.
[10] On December 8, Ozgur, my sister in law, went to Southeastern Turkey to help UNICEF develop programs for child refugees. Close to two million Syrian refugees are still in Turkey.
---
Top photo © Riley Draper; all other photos © Rowan Johnson
Sybil Baker's most recent novel is Into This World. She teaches at the University of Tennessee at Chattanooga and at the Yale Writers' Conference. This essay is part of a collection funded by a MakeWork Grant. The essay collection as well as a novel titled While You Were Gone are forthcoming from C&R Press.