Metropolitan is Still There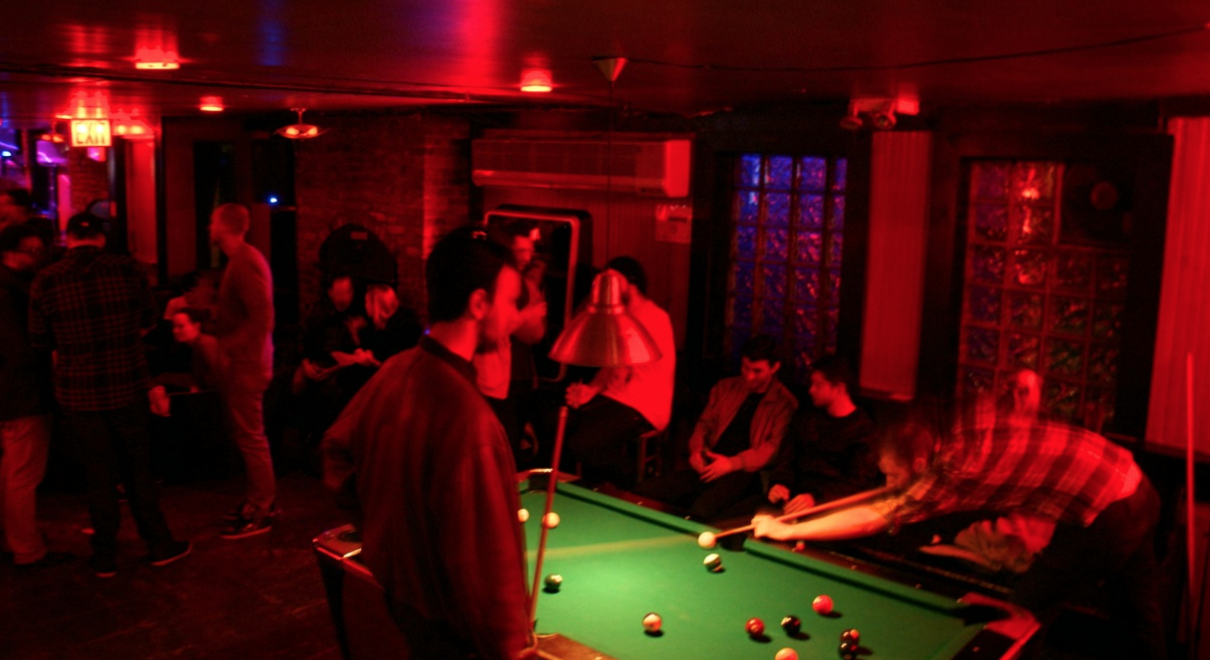 ---
You used to go to Metropolitan alone. You were 21 and it was the closest gay bar to where you lived in Bed-Stuy, Brooklyn. It was a good place if you'd been out with friends but weren't ready for the night to end. New friends were waiting for you there.
Or if you had been working on a short story from noon to 10pm and it was time to slither out into the night and not come home until the next morning. You read a review of the bar in New York Magazine that called it the best place to meet a guy with $80,000 in M.F.A. debt. And there you'd been, night after night with your debt, your hunger and anxiousness and a need for a place to put it all.  
It's always a game of chance, but there was never a night where you couldn't meet someone. The real game starts when you find someone you want to stick with, maybe forever. You learned that from the life and death of a boy you met at Metropolitan. You were outside, you politely interrupted his conversation with the bouncer to ask for a light. Christopher.
Later, the two of you would joke about how you met on Wednesday. Lesbian night. Who else were we going to go home with? Christopher would marvel at fate, at how he wasn't even going to go out that night. His sense of wonder was one of your favorite qualities, one of the things that fueled your relationship before it ended in his death in a bicycle accident less than a mile away from Metropolitan.
You never told him that you had been talking with someone else earlier that night, a potential fuck abandoned when you tried to take a casual sip from a can of PBR and let some of it drizzle down your cheek. That guy had excused himself to use the bathroom and not come back. You wish you had told Christopher that, it was fate just as much as anything else.
What seemed like only a few minutes after asking Christopher for a light, he was leading the way to his apartment in Greenpoint. He made the right onto Meeker Avenue and for the first of what would be a thousand times you walked beneath the elevated section of the Brooklyn-Queens Expressway, bathed in the ghostly yellow of the streetlights. The next morning you poked fun at how small his bedroom was, The last guy I met at Metropolitan had a way bigger room, you said. I have a bigger dick he said. He was confident and he was accurate. He wrote his name and number on a little slip of notepad paper and gave it to me.
The night we met, he was wearing the same denim vest that he wore the night he died two and a half years later, when along that same route he fell from his bicycle and was hit by a car.
The vest had pins with the logos of heavy metal bands stuck to the front pocket. He flocked to the things that brought him joy and peace, the vest and the pins were among them. So were books, playing guitar, The Simpsons, eventually you. He had a lot of energy, he knew the value of directing it to good things. I'm always bouncing off the walls, he used to say.
Metropolitan brought him joy and peace too. Where you went for sex – fun, validation, distraction – he went to play pool with his buddies and shoot the shit with the bartenders. Obviously he went there for sex, too, but he could take it or leave it.
He went for Queerakoe Tuesdays. He was a crooner. His go-to song was "Wicked Games" by Chris Isaak. He could melt a heart with that song. 
We both liked Metropolitan because it managed for the most part to stay free from the influence of all the youth and fashion that had invaded the borough since its opening in 2002. It was unfussy, you could be anyone and still have a good time there. Reviews complain that the bathrooms are dirty and that the bartenders are cranky to everyone who isn't a regular. The criticisms aren't untruthful but these are qualities that preserve it.
You stopped going there as much after you moved in with him. Christopher liked to go out on weeknights to avoid the big crowds and you had gotten a 9 to 5 gig answering the phones at the museum of Modern Art. You often stayed home while he went out to play pool or sing or hang out. Some of his longest friendships were guys he met at Metropolitan, you valued their presence in his life. You valued the way he came in at 2 or 3 in the morning to wake you up and cradle your head in his hands and kiss you. Depending on the weather his hands were cool or warm, like an extra kiss he'd carried in from the outside.
His friends form the bar were among those who came to Long Island to bury him. Among those who held you tightly, one after the other as you endured the wake and the funeral, the open casket.
They came to the memorial service in Brooklyn a couple weeks later too, on the day the ghost bike was put up. A bicycle, spray-painted white, was chained to a telephone pole across from the spot where the accident happened beneath a sign that read, Cyclist killed here. Friends and loved ones of Christopher's surrounded you while a member of the street safety organization that nobly installs the bikes spoke. A moment of silence was held.
A picture was taken at that moment and it captures everything. You had been flung into outer space, the white bicycle floating across from you, you were alone. Those guys from Metropolitan were there for you on that day. They were a brace. A grounding. You weren't in space, you had just learned the lesson that Earth was a place where one second the 32-year-old that you are in love with could be there, healthy and happy, and the next second he could not.
Metropolitan is still there, still part of Earth. It remains unfussy. There is a plaque on the wall by the pool table for Christopher. On his birthday, Christopher's family and friends of his gather at the ghost bike and then at Metropolitan to play a round.
You don't live in Brooklyn in anymore. You haven't been to Metropolitan in a long time. But you imagine it without difficulty. You can weave from the entrance, past the pool table, to the bar and out into the backyard and back again, waiting to catch the right person's attention, on the cusp of meeting people you might know forever or for much too short a time. You can feel the PBR dribbling down your cheek, taste the cigarette pressed to your lips, in need of a light. 
Jimmy Newborg's work has appeared in Little Fiction, drafthorse, and NYLON. He lives in Peekskill, New York.