Line of Sight: Lineage as Vision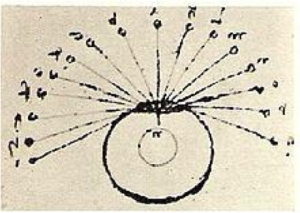 They wrote as women write, not as men, writes Virginia Woolf of Jane Austin and Emily Brontë in 1928.
What does it mean to write as a woman? Is it similar to throwing like a girl?
Which, in the vernacular, is to say not very well—even though plenty of girls have perfect pitching arms. Born before the passage of Title IX, I was not one of these girls; never have I been able to maintain a straight line: balls, Frisbees, stones. My bowling ball always veers away from the pins, echoes into the alley.
For at least for one girl born in the seventh decade of the twentieth century, to write as a woman meant to fill one's pockets with stones and wander to the bottom of the river. Or to lock the windows shut and turn on the gas. Or to get in the car and never leave the garage.
I had seen the books written by these women, but I was afraid to read them. Suicide already ran in my family, and I already threw like a girl; why go looking for trouble by writing as a woman?
· · ·
Leonardo da Vinci: The eye has a central line and everything that reaches the eye through this central line can be seen distinctly.
Toward the end of the twentieth century, I met a woman who published her first novel at age seventy-four, Harriet Doerr. She lived a stone's throw away in our native southern California, and in the spring of 1995, she wrote about the unexpected power of losing her central vision to glaucoma: "That's how we see the tiger in the grass. It's also how the tiger sees us."
What happens when peripheral shifts to central? Besides tigers, what (and who) comes into view that wasn't seen before? Do we change as our vision does? Does our aim become more true?
· · ·
In the fall of 1402, widowed and with a family to support, Christine de Pizan wrote a poem that she presents to the French king, Charles VI, already descending into madness.
The poem recounts a dream in which Christine ascends a ladder into the heavens. The ladder has been lowered at the request of the Cumaean Sibyl, restored in Christine's text to full body and voice. From outside the firmament, the Sibyl shouts a word in Greek Christine does not understand. Later the Sibyl translates the word: imagination.
The material out of which the ladder is made is called speculation.
The double helix of speculation springs from Old French speculacion "close observation, rapt attention" and from Latin specere "to look at, view" (see scope). The DNA of scope includes Italian: scopo "aim, purpose, object, thing aimed at, mark, target" and Greek skopein "to look." Scope, in the sense of "distance the mind can reach, extent of view," was first recorded circa 1600; in 1872 as an "instrument for viewing."
As every contemporary woman fortunate enough to have access to good health care knows, a speculum works as both scope and speculation, being a medical tool inserted into the vaginal opening to dilate it for examination. In the lineage of words, it descends from Latin's speculum "reflector, looking-glass, mirror."
Christine's shimmering ladder, borrowed from Dante and the biblical Jacob, both reflects and extends her line of vision. What happens to mine as I read her celestial climb in The Book of the Path of Long Study? I see the women who came after, and before. Ascending, descending, vertical axis emerging from air.
· · ·
a woman precedes me up the long rope,
her dangling braids the color of rain.
In 1993, approaching her sixtieth birthday, American poet Lucille Clifton writes of another ladder; well after her seventieth, she speaks of other instruments of viewing: "I have a little talk I give sometimes about windows and mirrors, that children—and humans, everybody—all need both windows and mirrors in their lives: mirrors through which you can see yourself and windows through which you can see the world."
Sometimes, if the light is right, a plane of glass serves as both window and mirror.
The ladders of both Christine and Clifton are made of light, or words that reflect it. There is a direct line, if not to God, then to the imagination. It's like an old-school time-lapse photo of stars or late-night car headlights, long streaks of illumination. Clifton's ladder is constructed of her name, the Lucille she shares with her mother, Thelma Lucille, who married into a line of Dohomey women. Here are the top rungs from Clifton's The Book of Light:
ray
stream
gleam
beam
sun glow
flicker
shine
lucid
spark
The last word is clear, all derived from Roget's Thesaurus, a luminous family of words. What does it mean to write as a woman? What does it mean to pass a torch?
· · ·
1975, and a young girl studies a small red book. It is filled with words, each with its own family, value, shade of meaning. Almost forty years later, she looks there again to see how line and lineage are related, how one word follows the next:
line, n. mark; cord, string; crease, wrinkle; verse, note; route, system; vocation, calling; lineage; row. See INDICATION, FILAMENT, POETRY, BUSINESS, ANCESTRY, CONTINUITY, FURROW, LENGTH, NARROWNESS, STRAIGHTNESS.

lineage, n. ANCESTRY, family, pedigree, POSTERITY.
Words that came before; words that came after. Poetry in capital letters.
The girl enamored of the small red book is not descended from Jacob's ladder, but from a parallel line—that of my grandmother, Leonora. Her sister Jeanette married a man named Joseph Jacobs, after whom at least a dozen descendents of my maternal line are named.
Uncle Joe died before I was born, but in the photograph of him that I grew up looking at, he is positioned at the top of cut-stone stairs leading to Lake Erie. My mother tells me this story:
Uncle Joe called me Bootsie, and summers at the cottage, he'd ask me to fetch his glasses, But don't open the case. I'd run to get his glasses, but of course I opened the case, and the glasses sprang out, and when I handed them to Uncle Joe, he looked at me and said, You didn't open the case did you, Bootsie? And I shook my head and swore No.
Uncle Joe called my mother Bootsie because he adored her, as she did him, but my grandmother named her daughter (one of four) Ilene, which is another form of light. Like any child, my mother just wanted to see inside.
· · ·
someone will remember us
______________I say
______________even in another time
The lines of this ladder—a fragment written by Sappho some time around 630 B.C.E. and translated by Anne Carson fifteen centuries later—have been turned onto a horizontal axis. And still it reaches both backward and forward, converging at the fulcrum.
When I look up lineage in the little red book, one word it points to is family, those related by blood and those adopted as one's own. It points also to ancestry and posterity, those we remember, and, maybe, those who will remember us. Or, maybe more exactly, lineage indicates how we are moved in relationship to others, how kinship arises—over centuries, through language, and beyond.
In her lectures delivered in my lifetime (1990) and another stone's throw away at the University of California, Helene Cixous states:
This is how I figure it: the ladder is neither immobile nor empty. It is animated. It incorporates the movement it arouses and inscribes. My ladder is frequented. I say my because of my love for it: it's climbed by those authors I feel a mysterious affinity for; affinities, choices, are always secret.
Our affinities might be secret, or, possibly, not explicable in a public way, but in writing of the ones who draw us close, we make them known. In letting them move us, we enter into a lineage that extends beyond the lines of our own poetry.
· · ·
Whom do we remember?
Both Christine and Clifton wrote about their mothers, and Carson, in translating Sappho, might be said to do the same:
I long and seek after
Sappho also wrote about her daughter—as did Clifton, here writing about the daughters she mothered, the daughter she was, and the daughters who came before:
woman who shines at the head
of my grandmother's bed,
brilliant woman, i like to think
you whispered into her ear
instructions
. . . . . . . . . . . . . . . . . . . . .
i am
lucille, which stands for light,
daughter of thelma, daughter
of georgia, daughter of
dazzling you.
Clifton wrote of (and for) not only mothers and daughters, but fathers and sons, sisters and brothers, lovers, friends, biblical figures, those of myth, music, and legend. Superman. Aunts and uncles, her husband of fifty-two years.
She wrote of, and for, those related by blood, and those adopted as kin.
As did other poets in Clifton's generation, and the generations before and after, including:
| | | |
| --- | --- | --- |
| Adrienne Rich, | Elizabeth Bishop, | Sandra Cisneros, |
| Marie Ponsot, | Marianne Moore, | Joy Harjo, |
| Genevieve Taggard, | Audre Lorde, | Brenda Hillman, |
| Camille Dungy | C.D. Wright, | Jean Valentine, |
| Nikky Finney, | Sharon Olds, | Ruth Ellen Kocher, |
| Jane Kenyon, | Paisley Rekdal, | Amy Gerstler |
| June Jordan, | Alicia Ostriker | Judith Ortiz Cofer |
| Gwendolyn Brooks, | Mary Jo Bang, | Louise Glück, |
| Kay Ryan, | Alice Notley, | Jorie Graham, |
| Jane Meade, | Brenda Shaughnessy, | Rachel Zucker, |
| Claudia Rankine, | Kimiko Hahn, | Maggie Nelson, |
| Kim Addonizio, | Maxine Hong Kingston, | Jane Cooper, |
| Chana Bloch, | Ai, | Martha Ronk, |
| Sarah Vap, | Rita Dove, | Gertrude Stein, |
| Mary Ruefle, | Anna Journey, | Natasha Tretheway, |
| Fanny Howe, | Cynthia Huntington, | Susan Howe, |
| M. NourbeSe Philip, | Jane Hirshfield, | Rosemary Waldrop, |
| Linda Gregg, | Natalie Diaz, | Anne Waldman, |
| Cole Swensen, | Tarfia Faizullah, | Annie Finch, |
| Angie Estes, | Patricia Smith, | Lorine Niedecker, |
| Wanda Coleman, | Rosanna Warren, | Eleanor Wilner, |
| Naomi Shihab Nye, | Gjertrud Schnackenberg, | Elizabeth Alexander, |
| Killarney Clary, | Eileen Myles, | Jennifer Moxley, |
| Anne Carson, | Dawn Lundy Martin, | Jane Miller, |
| Louise Bogan, | Leslie Scalapino, | Maxine Kumin, |
| Daisy Fried, | Rae Armantrout, | Mei-Mei Berssenbrugge, |
| Marie Howe, | Sophie Cabot Black, | Maya Angelou, |
| Sarah Maclay, | Lynne Thompson, | Lynn Melnick, |
| Rachel Blau Duplessis, | Carolyn Forché, | Lyn Hejinian, |
| Harryette Mullen, | Stephanie Brown, | Gloria E. Anzaldúa, |
| Alice Fulton, | Dorianne Laux, | Cathy Park Hong, |
| Linda Gregerson, | Carmen Giménez Smith, | Ellen Bass, |
| Victoria Chang, | Ann Stanford, | Sonia Sanchez, |
| Erin Belieu, | Diane di Prima, | Judy Halebsky, |
| Brigit Pegeen Kelly, | Teresa Hak Kyung Cha, | Cate Marvin |
| Laura Kasischke, | Naomi Shihab Nye | Heather McHugh, |
| Aimee Nezhukumatathil | Lynn Emanuel, | Tracy K. Smith, |
| Ruth Ellen Kocher | Tess Gallagher, and | Muriel Rukeyser (who wrote): |
The river flows past the city.

Water goes down to tomorrow
making its children      I hear their unborn voices
I am working out the vocabulary of my silence.

. . . . . . . . . . . . . . . . . .

Who will speak these days,
if not I,
if not you?
This brief gathering, laddered between Clifton's and Rukeyser's Collected, is comprised of women whose life spans intersect with at least one other's, from the year of Gertrude Stein's birth in 1874 to the present. Many are living at this time, 2015. Some live a stone's throw away, or as the crow flies, or the ladder extends. Some are friends. More than a few are poets I have met; one inscribed my copy of her first collection: Sister poet.
· · ·
Jeanette was the only sister of my grandmother, Leonora. She married Joseph Jacobs, and together they had four children, all cousins to my mother, Ilene, a name that means light. My mother grew up with her cousins, along with her own sisters and a brother, all of them sharing summers together at a cottage on Lake Erie—the cottage where Great-Uncle Joe asked my mother to fetch his glasses and where he is pictured at the top of the stone steps leading down to the water.
One summer toward the turn of the twenty-first century, I travel with my mother and one of her sisters to visit one of Jeanette's daughters. Her name is Blossom, which is its own kind of open light, and she tells us this story:
Jeanette was Nan, and Leonora was Auntie Lee, except for Joe Jacobs always called them Red and Roughneck. Nan and Auntie Lee's mother was named Dora, and she died when they were young. Their father put the sisters up for adoption, but every day Nan would run down to the letter box to intercept any envelope from the agency. It was Aunt Gizza took them in until Joe married Nan, and of course he took care of Auntie Lee, too, until she married. They were inseparable, those two sisters, Frick and Frack.
Blossom has the slender legs of Jeanette, and my mother has the smooth-skinned face of Leonora. I imagine them swimming in Lake Erie together, eating chicken dinners at the long wooden table of the cottage—daughters of two sisters—summer after summer until 1954, when my grandmother and grandfather will move their family of three daughters across the country to follow their oldest son, settled in California.
· · ·
Those women poets lining my shelves, they, too, wrote of their mothers and daughters, their sons and fathers, their visits and their leave-takings. They wrote about the places they lived; they wrote about their physicalities. Sometimes they wrote for each other:
"On a Passenger Ferry"
                         in memory of Grace Paley

The deck is big, and crowded. In one corner,
an old woman, sick, on chemo, not in pain, is
writing in an elementary school notebook.
Nobody else saw her, but I saw her.
I had seen her before. Her round, kind face,
smiling and still as a photograph
outside a window—
Or about each other: "Grace Paley once recounted her excitement, while still a young girl, at finding Rukeyser's picture in a 1943 poetry anthology. She thought, Well, there it is, a girl and a poet, it's a possibility at least—"
Or in praise of each other: "Reader, rarely will you encounter a mind or imagination of greater scope."
In this extended scope of vision, Jean Valentine looks to Grace Paley, who looked to Muriel Rukeyser, poet-sister to Jane Cooper, whose Flashboat: Poems Collected and Reclaimed I can spy from the desk where I work in a room of my own.
The future weighs down on me
just like a wall of light!
Some translated each other over countries and decades, from mother tongue to mother tongue. Such does the American-born Valentine bring Marina Tsvetaeva's 1916 poem for Anna Akhmatova:
I won't fall behind you. I'm the guard.
You—the prisoner. Our fate is the same.
And here in the same open emptiness
they command us the same—Go away.
So—I lean against nothing.
I see it.
Let me go, my prisoner,
to walk over towards that pine tree.
Valentine collaborated with Odessa-born poet Ilya Kaminsky to bring Tsvetaeva into English, and they call their versions not translations but readings. In this reading, not only does Tsvetaeva see nothing, she leans against it: a palpable emptiness that with Tsvetaeva's acknowledgement brings the release not only of her own imprisoned fate, but that of Akhmatova's. This is how an entire line of voices resists the command: Go away.
From one voice to another, one century to the next, these poets—and countless more—brought each other from peripheral to central, and in doing so saw not only what is found there, but what is possible in a new line of sight.
Watching the moon
at dawn,
solitary, mid-sky,
I knew myself completely,
no part left out.
They wrote of women respected and cherished, those who came before and after, those who came during. They wrote of themselves, wholly present. Who said it was okay? They looked the mirrored ladder and told each other yes.
"Yes," she says.     "Do."
Say yes, people.
Say yes.
YES
· · ·
I turned seven the year Title IX passed, and my father told me: Girls can be whatever they want when they grow up, the world is changing. It was a serious thing to say to a seven-year-old, but I think he knew he wouldn't live to say it when I was older. He asked me to remember: You'll understand one day.
In the line of female names that have filled my bookshelves from the twentieth century to the twenty-first, almost every poet's lifespan has intersected with mine. In fact, Clifton's Collected begins at the year of my birth, 1965, the same year Tillie Olsen began publishing, in Harper's magazine, portions of Silences, a book "concerned with the relationship of circumstances—including class, color, sex; the times, climate into which one is born—to the creation of literature…. [a book] written to re-dedicate and encourage." It was the same year, too, that Jean Valentine won the Yale Younger Poets Prize, exactly thirty years after Rukeyser. Well, there it is.
Valentine has spoken about the importance of other women poets to the viability of her own creative life, "I made friends with Adrienne [Rich] and Jane [Cooper] right at the beginning. But I didn't know about many women who were writing poetry. I was very late finding out about Muriel Rukeyser. Jane and Adrienne were very important as living friends…. I needed living people as examples. I think all poets need living poets."
Living poets show us what it might mean to write as a woman. And what it might not. It was Valentine, now eighty-one, who let me see I wasn't alone in my fear, that I hadn't locked myself in its attic entirely of my own accord. She'd had the same fear:
I had a wonderful teacher, Bill Alfred, who said that his women poetry students "never go on writing, and if they do…," and he never finished his sentence. And that "dot, dot, dot" was terrifying to me. This was before Sylvia Plath and Anne Sexton, but there were people like Virginia Woolf, and there had been men who had destroyed themselves.
In my family, it was the men who had destroyed themselves. My uncle and then his brother, my father. How not to follow this lineage? Maybe first by embracing the truth of my own being: that of a woman born in a decade of great tumult and great possibility. And then writing as she would.
Each of these poets who lived—and of this writing, many live still—at the time of my birth shows me how to do that. Almost fifty years later, even through a long period of silence, Valentine is still writing poems. And I want to thank her, and those who came before, and those who will come after.
· · ·
"When God Was a Woman" is the final poem in Carmen Giménez Smith's Milk & Filth, which she has described as "an homage to the aesthetic experience of second wave feminism, especially when it came to writers of color." A 2013 finalist for National Book Critics Circle Awards, the collection speaks to the personal and the political selves that comprise the poet Giménez, who wrote it "in part [as] a way to translate or revise stories that excluded or distorted the self I occupy" and as "a tribute album" to the groundbreaking 1973 No More Masks!: An Anthology of Twentieth-Century American Women Poets: "Reading that book changed my life, set me on an important political path, so I wanted to evoke that effect, that mood of radical possibility and truth."
No More Masks!, conceived by Florence Howe and Ellen Bass, takes its title from Muriel Rukeyser's 1968 revisioning of the Orpheus myth, wherein the tragic bard admits that when he "wrote of the women in their dances and wildness, / it was a mask," but when he
…wrote of the god,
fragmented, exiled from himself, his life, the love gone
down with song,
it was myself, split open, unable to speak, in exile from / myself….
"No more masks!" the speaker urges, "No more mythologies!" the poem's exhortations newly voicing an aim to create a collection reflective of the full experience of what it means to write as a woman: "We insisted the poem tell us something we didn't already know about … women's experience, women's dreams, women's thoughts. We insisted that the poem please us aesthetically—as a shape, as a signifier. We asked that [it] communicate openly … that the poems all together be exciting … an adventure for the uninitiated."
Writing as a woman means writing as a part of the continuance—through silence, through burning, to and from foreverness—making lines on a page. Making one line and then turning and making another, one line after the next, as a plough turns a field,
as did Plath:
—The furrow

Splits and passes, sister to
The brown arc
Of the neck I cannot catch,
as did Sexton:
…You came like an awkward guest
that first time, all wrapped and moist
and strange at my heavy breast.
I needed you. I didn't want a boy,
only a girl, a small milky mouse
of a girl, already loved, already loud in the house
of herself. We named you Joy.
I, who was never quite sure
about being a girl, needed another
life, another image to remind me.
And this was my worst guilt; you could not cure
nor soothe it. I made you to find me.
as did Woolf:
The sky is dark as polished whale-bone. But there is a kindling in the sky whether of lamplight or of dawn…. A redness gathers on the roses, even on the pale rose that hangs by the bedroom window. Cottagers light their early candles…. And in me too the wave rises.
Writing as a woman means putting pen to paper. It means making a line of words and then making another. It means living in a female body—healthy, sick, old, young, loved, alone, with child, without—writing and writing again, writing even when the lines lead to
no one
no window

black water
nail-scratched walls

your pure face turned away
embarrassed

you
who the earth was for.
Sometimes it means not seeing a way out of prison, face turned away, a temporary blindness of unknown duration. No pen to paper for a very long time.
Sometimes it means raising your line of sight to the mirror, and if some part is missing, looking elsewhere to find it—you or another like you, the lineage you belong to—looking maybe toward the dawn, maybe to the sister in the split furrow, maybe to the waves rising outside a window spoken of by a Dohomony woman named Lucille, which is another name for light.
· · ·
My father told me I could be whatever I wanted when I grew up, but the idea of being a poet was unimaginable. Nobody I knew wrote. But there was one girl I knew who loved poetry. I keep her picture still.
Jeanette's daughter, Blossom, married a man named Robert (which was my own father's name), and together they adopted a daughter and named her Margo, only two letters different from mine. Two girls who loved poetry, daughters of daughters of sisters, only four years apart in age.
On the night Margo gave me the tiny school photograph that I keep in a box of treasures, she was fifteen, and I was eleven. I know this because she inscribed the date on the back: 10/27/76. Margo's family had recently moved from Michigan to live in California, not far from where my family lived in Los Angeles. That night in October, my cousin and I spent hours on her bedroom floor sharing stories about lives we had known only from afar. How it was we discovered we both loved poetry, I have no memory, but there exists a record under the photograph's date: To a poetry lover / thanks for enjoying what I enjoy like poetry! Let's enjoy it together. Love, Margo J. M.
The girl in the photograph gazes directly at the camera, her eyes fixed straight as if they might see me still. Four years after it was taken, I would be the age she is then, and Margo would be fatally injured in a solo motorcycle accident. They say Blossom was a rock of composure at her broken daughter's bedside, but my grandmother, Leonora, also lost a daughter young, and sometimes I imagine her sitting together with Jeanette, both of them looking into the distance with their thick post-cataract glasses, and my grandmother shaking her head: There's no grief like it.
It took another twenty years to see the truth of myself as a poet. One day, I sat with Blossom among a group of older women who met once a week to share what they had written. Each read in turn around tables arranged into a large square. Each faced the others and offered her voice to the center. Some time after, I was flipping through an old photograph album, the kind with adhesive, and I peeled off the school picture Margo had given me on that October night of 1976. I turned it over, and there was the inscription, reminding me who I was.
The girl who was my cousin didn't live to accompany our family into the twenty-first century but she left us this poem, written for a woman who made light out of bone in a northern lake cottage at the top of cut-stone stairs: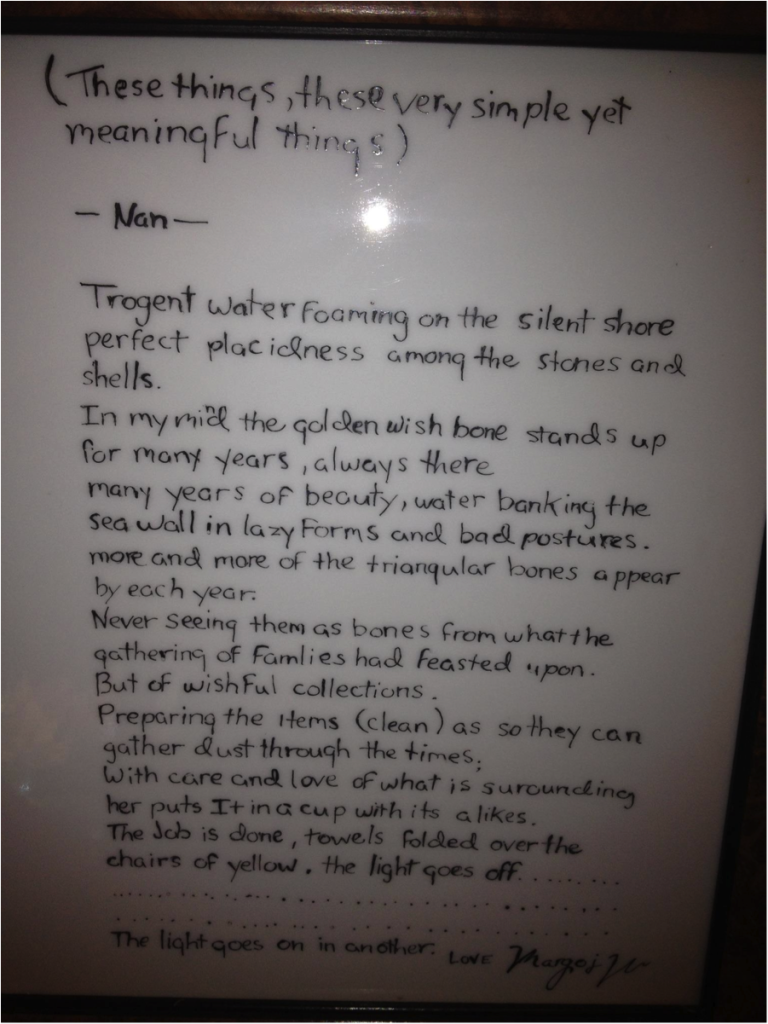 Marci Vogel is the author of At the Border of Wilshire & Nobody, winner of the 2015 Howling Bird Press Poetry Prize. Her poetry, essays, and translations have appeared in FIELD, Plume, Jacket2, and Drunken Boat, among others. Currently a doctoral candidate at USC, Vogel was awarded a 2014 Willis Barnstone Translation Prize for her work with the poetry of Andrée Chedid.