A Paean to Summer Reading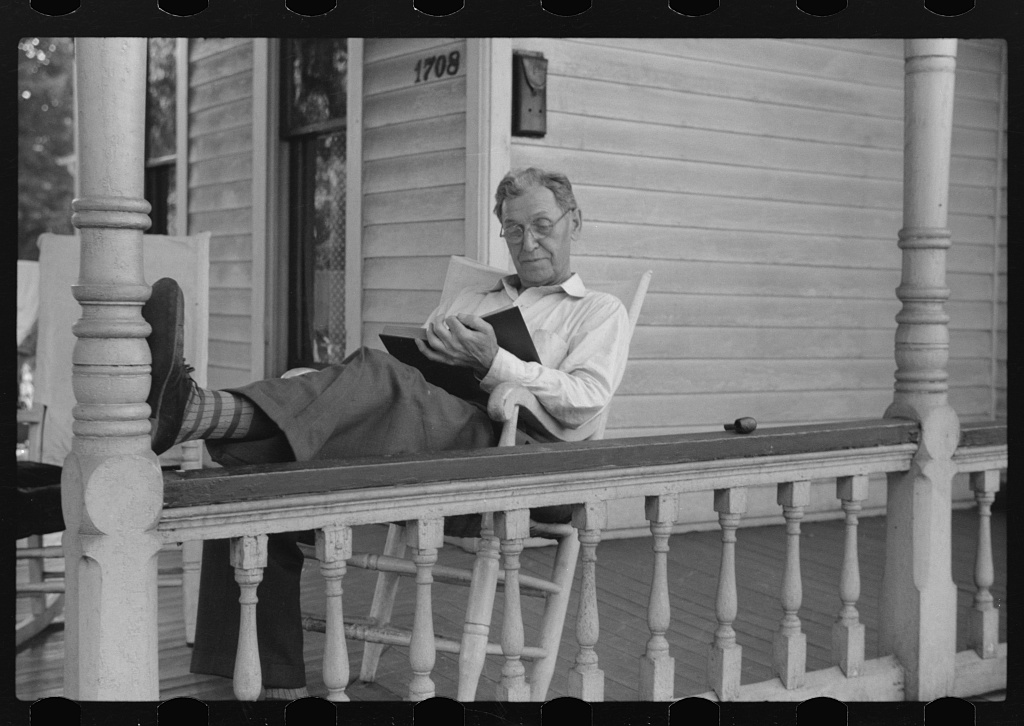 ---
Given how I struggled as a child with prescribed summer reading lists—all those obligations to read Hard Times or Lord Jim by the Tuesday after Labor Day—I surprise even myself at how much pleasure I get from my warm-weather books.
From the fifth to ninth grades, I attended Buckley Country Day School on Long Island. Mixed into the delight of the school's last day was the passing around of a typed reading list, advising us that we had to read five books on the list and write short summaries of each before the start of the next grade in the fall. Reading five or even ten books over the summer would not have posed problems, provided that the list included what then most interested me, which were sports biographies or memoirs of the Second World War. But the reading lists were limited to the canon of adolescent literature in the 1960s, and heavy on George Eliot, Stephen Crane, Charles Dickens, and Joseph Conrad. Some summers there were a few exceptions to literary correctness—I remember my sister got away with reading Catch-22, although it caused a stir—and some lists had boyish books about hot rods and sailing. For the most part, however, come early August I would find myself seated on a porch chair, trying to make sense of the Mayor of Casterbridge, Miss Havisham, or Siddhartha, none of whom spoke to a thirteen-year-old boy who wanted nothing more than to hop on his bicycle and race to the schoolyard baseball game.
I did do enough of the reading to graduate from the school, but for years I could not pick up Dickens, Hardy, or Conrad without thinking painfully of those lovely summer days when I was anchored to a chair with a prolix English novelist. Later I would discover the pleasures of all three authors (although some of Dickens may forever remain beyond my reach). Only well into my twenties did I go back to the classics and finish many of the books that I had once dreaded. Commuting to work on the New York subway, I mastered Edith Wharton, F. Scott Fitzgerald, and many other writers that I had failed to appreciate in junior and senior high school. But I am not sure I ever got over the notion that summer reading had to have a purpose.
In memory I have never sat on the beach with a trendy novel or one of those large biographies that more serious sun bathers carry down to the sea with the best intentions. Nor have I ever read any of the novels that I know circulate in book clubs, many of which, come summer, feature covers with sand dunes and bored women. The depth of my literary block can be measured when I went to my sister's beach house two summers ago and discovered a full set of Folio Classics. From what looks like the complete set of summer reading books, I chose Silas Marner and read it with pleasure—mostly, I suspect, that I would be done with it well before Labor Day. The first time around, about summer 1967, I am sure I went in search of baseball long before the weaver of Raveloe went hunting for his gold.
Somewhere in my mind I am still working through my reading lists, although in summer 2012—perhaps as a sign of maturity—I decided to head to the United States for three weeks without any books in my bag. The family plan was to drive from Montreal to New York, stopping off to visit family and friends in Maine, Boston, the Berkshires, and on Long Island. I knew we would be visiting colleges and universities, so one of my ideas was to pick up books in shops along the way. Evelyn Kilbourne, who put together so many of those Buckley summer reading lists, might not have approved, but then she never did figure out that with some of her suggestions—David Copperfield, for example—I am more than forty years late with my assignments.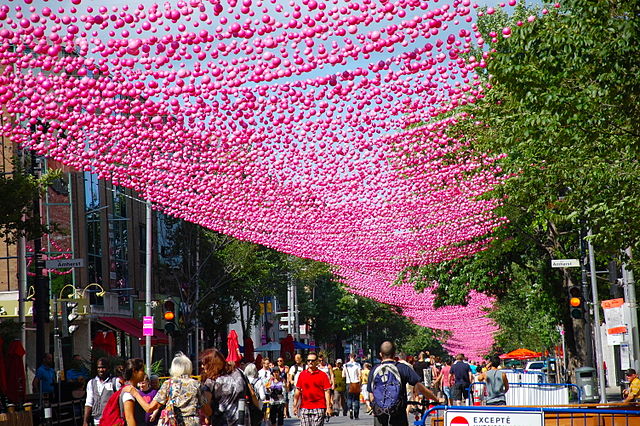 Montreal's Gay Village along Sainte-Catherine; photo © Eric Sehr
---
Our first stop that summer was Montreal, a favorite among our European neighbors for having both North American brashness and French accents. I found it neither here nor there, unsure if it wants to be a satellite of the United States or France. For the benefit of our niece and son, we toured the campus of McGill University, which offers a North American education at Canadian prices.
The typical college tour includes a handful of motivated parents, some distracted children checking their iPhones, and an animated guide from the junior class, who has set speeches about the dining room, the library, and the intense social scene. In the bookstore, however, I head straight for the course readings—another curse from my childhood, I suppose—and imagine myself taking Political Science 203 ("readings on constitutional theory") or English 404 ("the landscape of the American businessman is explored through the works of William Howells, Theodore Dreiser, and Sinclair Lewis"). From the recommended readings, I decide what I think of the college.
At McGill I concluded that the university is long on reputation but short on books that anyone (meaning me) would want to read. Many course readings were stale textbooks. All the English courses looked like they were obsessed with gender, and I sensed that quantitative social scientists had seized the history department. Rarely did I come across a reading list that looked as if a book lover was teaching the course. As Woody Allen says in Annie Hall, "Just don't take any course where you have to read Beowulf."
Since I needed books, I bought a reissued copy of Neil Postman's classic account of the televised culture, Amusing Ourselves to Death (1986). To make sense of the 2012 presidential election then in progress, I came away with McKinley, Bryan, & the People by Paul W. Glad, an account of the race in 1896 and bimetallism, and Washington Rules by Andrew Bacevich, an account of American foreign policy.
On the long drive from Montreal to Boston, interrupted by family dinners and excursions to beaches and malls, I digested Postman's thesis, which is that America has moved from a "word-centered culture" to an "image-centered culture." Until he died in 2003 at age seventy-two, Postman was a university professor in New York University's School of Education. He wrote many books that make the point that popular American culture is ruinous to the mental and educational health of American children. He doesn't quite come out for summer reading and Lord Jim, but drifts in that direction.
When our children were young, my wife and I admired his book The End of Childhood, which argues that television is ending the idea of childhood and adolescence because the celluloid world delivers reality to parents and their kids at exactly the same time. When the ability to read and digest print was the dividing line between children and adults, a parent guided their children into the wider world, explaining war, love, divorce, or comedy to the curious child. Thanks to television, parents and children now live in the same dimension, watching the same battles and love scenes on the same screen.
Amusing Ourselves to Death is less about the corrosive effects of Dallas on teenagers and more a broadside against the televised hedonism of a remote control culture. He cites the Lincoln-Douglas debates, which often lasted six hours (with breaks for people to go home for dinner), as the high water mark of a literate democracy. ("In short, the … debates may be described as expository prose lifted whole from the printed page.") That "Age of Exposition" gave way to an "Age of Show Business" in which the politician is reduced to the role of a tap-dancer. He writes: "We are not permitted to know who is best at being President or Governor or Senator, but whose image is best in touching and soothing the deep reaches of our discontent."
What matters is form and appearance, more than depth and understanding. According to Postman, television emphasizes "a type of discourse that abandons logic, reason, sequence and rules of contradiction…. In the parlance of the theater, it is known as vaudeville." It reduces even tragedy and wars to forms of entertainment. "Americans," he argues, "are the best entertained and quite likely the least well-informed people in the Western world."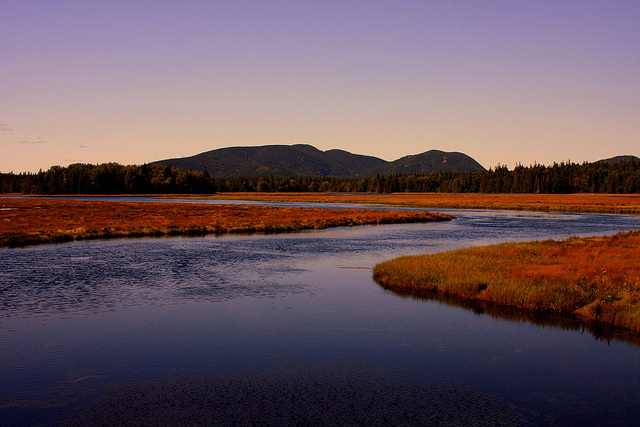 Mount Desert Island, Maine; photo © Dana Moos
---
Although I have been coming to Maine for more than thirty years, I had never driven across the northern quadrant of the state—between Montreal and Bangor—a tapestry of rolling hills, distant mountains, pine forests, and lakes that stretches for many hours in the car. Tourist Maine thrives along the traffic-jammed coastline, which we saw only for a day at a family picnic of lobster, corn, and beer "on the rocks" in Bar Harbor. In late July, the town is overrun with ice cream cones and T-shirt vendors. When it grew to prosperity, Bar Harbor was a stop for the steamers that plied the coast north from Boston and Portland. Now summer tourism takes place in family cars, which drive the loops of Acadia national park, like elephants grasping with their trunks at the tail of the beast ahead of them.
Driving around Mount Desert Island, we gawked at the robber-baron summer houses perching above the waves. Had summer reading taken me to Edith Wharton, I might have had her dialogue in my mind. ("Her entrances were always triumphs; but they had no sequel," she writes in The Custom of the Country.) Instead I marked a passage in Postman, who writes: "As some psychiatrist once put it, we all build castles in the air. The problems come when we try to live in them."
My favorite trips around inland Maine are those on my bike. There is something magical, especially as the hay is being cut, to bike across a landscape of corn, potato, wheat, and dairy farms, carved from pine forests and sliced with granite. My ride this summer started in Exeter (where my wife grew up) and headed to the coast, some forty miles south, through Stetson, Etna, Dixmont Center, and Winterport. Near the Penobscot River, I passed clapboard churches and houses that looked as though they were on loan from an Andrew Wyeth painting. I didn't have time, however, to go from Rockland down the coastline to Port Clyde and Martinsville, where during another summer my wife and I found the small wooden house where the American writer Sarah Orne Jewett (whom Willa Cather much admired) lived while working as a school teacher and writing her celebrated stories.
Jewett's classic about Maine, The Country of the Pointed Firs, is not a good match for the distractions of the online age. (As Postman writes: "I refer, first, to the fact that television's principal contribution to educational philosophy is the idea that teaching and entertainment are inseparable.") Her quietly evocative descriptions of Maine—"a stripe of light green ran along just above the shore, which I knew to be wild morning-glories"—are taken up with the squeak of a wooden staircase or the drift of a heron, not the summer romances of hedge-fund managers in Kennebunkport.
In large part Jewett wrote a book about the challenges of writing a book, although the strength of her novella comes when she is distracted, in the best sense of the word, by the small world of coastal Maine. For example, she meets a ship's captain, with the Dickensian name of Littlepage, who is in love with the words of Shakespeare. The genius of her writing is its simplicity, the interior world of a Maine school teacher dreaming of becoming a writer, much as Emily Dickinson did at her Amherst window. (Yes, to my shame, I avoided Dickinson until well into my fifties but have since rectified this character flaw.)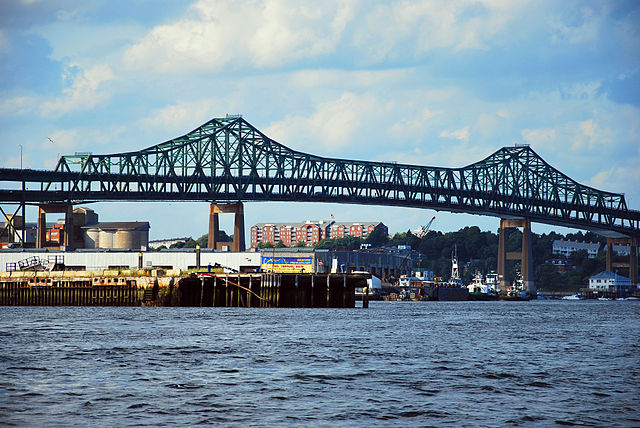 Tobin Bridge, Route 1, Boston, MA; photo © Chen Siyuan
---
Not even the cynical Postman has adequate words for the traffic that engulfs Boston on a summer Friday afternoon. The stretch of Route 1 that meanders into the city across the Tobin Bridge was stop-and-go, highlighting the endless strip of mattress dealers, McDonald's, donut shops, shoe discounters, golf club emporiums, and light-fixture warehouses. From the bridge we crept onto to Storrow Drive, which crosses Boston along the Charles River, and found the house of our friends.
Only my wife, however, was going out that night—to dinner with her college roommates. I stayed in and read Washington Rules: America's Path to Permanent War as the next day I was to meet Professor Andrew Bacevich. Now a professor of international relations at Boston University, he was a career army officer until he found himself estranged from what might be called "the war business." His book is a primer on Washington's imperial masquerades.
I found Bacevich in his college office, on the top floor of an elegant Back Bay townhouse, the center of the university's department of international affairs. He was wearing shorts and a polo shirt, and had a packing box on his desk, which he was filling with books. He said he would be spending the fall semester as a visiting professor at Notre Dame University, and in a few days he would set out in the family Prius for the drive to South Bend, Indiana. I sat across from him at his desk and recorded an interview that lasted about a half-hour, using for my questions some of the passages from Washington Rules, which includes a vivid description of how he began to question certain assumptions about the Cold War and U.S. Foreign policy.
Just after the Berlin Wall came down in 1989, Bacevich took his family to see the city that had occupied so many of his planning duties when he was a serving officer in the U.S. Army. (He retired a Lieutenant Colonel.) Walking along Unter den Linden in what had been East Berlin, he arrived at the Brandenburg Gate—the symbol of Cold War division—to discover that impoverished Russian soldiers, soon to withdraw from the East, were selling their military gear. From the "cheap junk" he saw in the street, he began to question his own and his country's assumptions about the power of the Soviet Empire, which he described as a "fairly ramshackle enterprise."
During his military career Bacevich assumed that the government would pay a "peace dividend" when the Cold War ended, that instead of maintaining the ramparts against a possible Soviet invasion, the inner cities of Detroit and Cleveland, for example, would get their share of cut military appropriations. But the end of the Cold War brought few cutbacks to the national security state. In Washington Rules he makes the point that the "misleadingly named Department of Defense serves in fact as a Ministry of Global Policing" and describes how the United States "has approximately 300,000 troops stationed abroad, again more than the rest of the world combined" and that they occupy "761 'sites' in 39 foreign countries."
We spoke about what he calls "the semi-war," a low-boiling conflict around the world that keeps the Pentagon flush with appropriations and keeps politicians stocked with sufficient threats to run for reelection. Bacevich describes himself as "fairly close to despair" over the waste that he associates with imperial adventures and the waging of permanent war. He connects the dots between American foreign policies and the spendthrift habits of a society that only takes pleasure in afternoons with television or at the mall. Bacevich writes:
"Whatever works" no longer seems to guide everyday American behavior, if it ever did. Americans view it as their birthright that reality should satisfy desire. Forget e pluribus unum. "Whatever I want" has become the operative national motto. In the meantime, when it comes to politics, Americans do put up with nonsense. Week in and week out, members of a jaded governing class, purporting to speak for "the American people," mouth tired clichés that would have caused members of the Soviet Politburo to blush with embarrassment.
Leaving the interview, I waited for my family to collect me at the Barnes & Noble in Boston's Kenmore Square. I wandered through sections offering fiction and history, but nothing grabbed my attention until I spotted a table with a sign, "Summer Reading." From a distance, I figured this would be a collection of current bestsellers, especially those set in adulterous summer colonies. As I drew closer to the table, however, I could see that the arranger of this table might have been one of my seventh-grade English teachers. Stacked up attractively were many of the same books that had graced my summer-reading lists. To Kill a Mockingbird, The Adventures of Tom Sawyer, The Scarlett Letter, East of Eden, The Yearling, etc. were all there.
Getting into the car, I said, with mock Hitchcockian horror, "I think someone is following me," and described my inability to read Oliver Twist between the sixth and seventh grades.
By the time we got to the Berkshires, my attention had drifted from literature to the presidential election, then making the rounds of the news cycles. I know the order should have been the other way round. A house beside a lake in the Berkshires is the place to read something like Wuthering Heights (it was on all of my lists) and to forget about the soundbites of a presidential election. ("For the message of television as metaphor," Postman writes, "is not only that all the world is a stage but that stage is located in Las Vegas, Nevada.") Nevertheless, in western Massachusetts I had decided to tackle Glad's McKinley, Bryan, & the People, "a study of the crucial election of 1896 that became a conflict between two great national myths—the yeoman farmer and the self-made man of success."
Floating on a New England lake where the hills of the Berkshires climbed above the cottages along the shore, I imagined the 2012 election as a rerun of 1896, in which Barack Obama was heir to the Progressive traditions of William Jennings Bryan ("You shall not press down upon the brow of labor this crown of thorns, you shall not crucify mankind upon a cross of gold") while Mitt Romney was standing fast with the banks, counting houses, railroads, stockjobbers, and J.P. Morgan ("We do not want any cheap money, any more than we want cheap labor in the United States").
Sometimes called the "Major," McKinley was the last of the Republican stalwarts who fought in the Civil War and came of political age under Ulysses S. Grant. They were the so-called hard money men who wanted the currency tied to gold, and for farmers to repay their loans to eastern lenders with greenbacks unblemished with inflation. In 1896, the Progressive candidate, Bryan, lost, in part because he looked to be under the influence of the Knights of Labor, Henry Georgeites, Edward Bellamyites, and both narrow- and broad-gauge Prohibitionists. Little did his supporters know that their ideas would come to dominate American politics twenty years later. Glad writes: "All present and accounted for were the familiar demands for a more flexible currency, for free coinage of silver, for an increase in the circulating medium, for a graduated income tax, for a subtreasury, for postal savings banks, for government ownership and operation of the railroads, and for the reclamation of lands held by aliens and railroads."
From the Berkshires, we made our way—with a stop at Franklin Roosevelt's house at Hyde Park on the Hudson River—to my sister's house on the Long Island beaches, not that far from where I went to that summer-reading-list private school. When I was growing up, we would make day trips to Jones Beach, and I would carry along my assigned reading, only to leave the book on a towel while I body surfed in the waves or played football in front of the dunes. The Hamptons were too far for the day, but for one vacation we rented a house on Shelter Island, which is between the North and South forks of Long Island. There I can remember struggling with the religious metaphors in Robinson Crusoe and laying it aside for a more "accessible" summer read about the Green Bay Packers.
This time I came to the beach without any books in hand, figuring I could troll the shelves for summer reading. When my sister bought her place, it came with a large collection of Folio classics. The previous owners had divorced, and their lawyers had other things to argue about than who would get the slipcased edition of Sister Carrie. During previous summer stays I had tried to make headway with Erasmus's In Praise of Folly and Laurence Sterne's Tristram Shandy, although I had bogged down with each, proof that in some respects I still have an eighth-grade attention span.
On this trip I attempted the same summer-reading heroics, but not even sun and sand could adjust my mind to Laurence Sterne's archaic constructions. I wish I could have gotten somewhere with a book that so amused Thomas Jefferson that he carried it often on his travels, but such formal English has never come easily to my eyes and ears; otherwise, I would have finished Pride and Prejudice in 1968, rather than in summer 2009 while riding on a bus in Sardinia.
One rainy afternoon, I went to the Amagansett Free Library, a delightful, over-air-conditioned shingled building on the town's main street, to comb through the used-book boxes near the front door. In a town as wealthy as Amagansett—Alec Baldwin is often spotted in local bars—bestsellers are shunted aside after a few cursory readings, and discarded paperbacks sell for 50 cents. It was in those boxes that I came across a rejected copy of A Life of James Boswell by Peter Martin and parted with a dollar to make all 613 pages mine.
In no way am I a Boswell scholar. In my twenties, I read and loved his biography of Dr. Samuel Johnson, and some years later, during a vacation on the island of Corsica, I biked to Sollacaro, the village where Boswell spoke long into the night with the political rebel and philosopher, Pasquale Paoli. In 1765-66, Boswell had been on a grand tour of Europe, and had gone to Corsica to meet with Paoli, whose constitutional theory would influence John Adams, James Madison, and others at Philadelphia in 1787. This, in turn, led me to Boswell's journals, On the Grand Tour: Italy, Corsica and France 1765 – 1766. But the book turned out to be little more than accounts his amorous conquests on the road, many with the wives of absent noblemen. I remembered the racier aspects of the journals at the Amagansett Free Library, and nothing I read on the beach about Boswell's life of literary debauchery proved disappointing.
Boswell was a journalist in the most narrow construction of the word, in that his preferred literary form was to keep notes in his journals. He had a deft ear for conversation, found company in London and elsewhere with men who were witty and wise, and wrote down everything he saw and heard. Today such form is commonplace, if not the template for a blogging and twittering world. In the eighteenth century, however, such a style was revolutionary. "The journal," writes his own biographer Martin, "was not simply a record of events and thoughts; it was a way of living, of self-realization and fulfillment. It was life itself."
Boswell's interest in Corsican independence and Paoli evolved from his friendship with Rousseau, whom he hounded with complimentary letters until granted an audience with the great man. Martin writes: "He had just read Rousseau's Social Contract in which he had proposed Corsica, with its famous and attractive General Pasquale Paoli, as an ideal model of social and political liberty in a Europe that, as he saw it, had politically corrupted itself many times over." From Rome Boswell writes to Rousseau: "I cannot restrain myself from paying a visit to those brave islanders who have done so much for their independence, and who have chosen M. Rousseau as their legislator."
Much as I did with my bike, Boswell loved his time on Corsica, a land of wild beauty, banditry and vendetta. He later reflected to Paoli: "I had got upon a rock in Corsica, and jumped into the middle of life." He describes the rebel leader in his journal: "Energetic, pious, incorruptible, impatient with talkers and triflers, he never confused a firm regard for the dignity of his position with a sense of personal self-importance."
Boswell's Life of Johnson, for which both are justly famous, brought together his abilities as a friend and listener, as well as his copious note-taking, with the mind of the great philologist. With his erudition and dismissive views on many subjects, Samuel Johnson cannot have been an easy friend. Indeed, Boswell had been warned not to get too close to his subject—"Sir, no man is proof against continual adulation," said Goldsmith—which strikes me as a variation on the theme that it is a bad idea to sleep with another man's mistress.
In keeping notes of their many conversations, Boswell managed to produce a biography of a great mind, an anatomy of a friendship, and a blog of his comings and goings. Martin concludes: "The Life celebrates not only Johnson's mental powers but also Boswell's zest for living…. He was eager and ambitious, thirsty to discuss philosophical and religious ideas with the Enlightenment personalities he was meeting. His willingness to listen and absorb without necessarily agreeing with what he heard made him a welcome guest." Martin calls the Life "the first great modern biography," and writes that for Boswell Johnson may have been "an excuse for celebrating his own nature and psyche."
Johnson died in 1784 and Boswell in 1795, of what might be called dissipation. One Boswell friend summed him up as "that biographical, anecdotical memorandummer."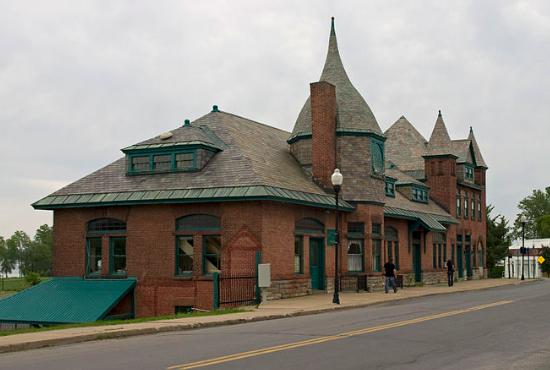 Plattsburgh, NY, train station; photo © Ymblanter
---
To get to Montreal for my flight home to Europe, I decided to take the train along the Hudson through the Adirondacks. I planned to leave early in the morning, read my book, and eat lunch on the train. But as the departure time arrived, I revised my plans to include a stop in Plattsburgh, New York, to visit its War of 1812 Museum. I didn't know how I would get to the museum, located several miles from the station. When I called the director of the Battle of Plattsburgh Association, Keith Herkalo, he kindly agreed to meet me at the station and drive me to the museum—which happened only after the Adirondack crawled into Plattsburgh about forty-five minutes late.
Before I spotted Keith at the end of platform, I took a picture of a hand-printed Amtrak sign, "This station DOES NOT sell tickets … reservation required." No wonder most American summers unfold in cars.
A town of angled parking and summer gift shops, Plattsburgh curls around the gentle waters of Lake Champlain, which (almost) connect the Hudson to the St. Lawrence River, one reason why it saw so many decisive battles in the Revolution and the War of 1812. During the republic's breakaway years, Lake Champlain was the seaway to independence or servitude. Now it is a summer stop on the way to places like Lake Placid or the Adirondacks. As Keith drove me to the museum I could glimpse broad expanses of the lake, which is scattered with pine-covered islands and, in August, sailboats tacking lazily in the breeze.
I had started 1812: The War that Forged a Nation by Walter Borneman on the train, which left Pennsylvania Station at 8:15 a.m. and had followed the banks of the Hudson until Albany. I cannot remember where I found the book, but it had been at my father's house in Princeton, waiting until I could devote some attention to the 1812 war, about which I only had a sketchy appreciation.
During summers in Maine, we have often had picnics at the forts constructed before and after the 1812 fighting, and on bike rides I have dutifully read inscriptions about the fall of Castine and Maine's early attempt at a seaside Maginot Line. In Baltimore, I had gazed into the harbor toward Fort McHenry (from the unknown second stanza: "Now it catches the gleam of the morning's first beam/In full glory reflected now shines in the stream"), but never joined the line to visit the island. After Hurricane Katrina, I walked the trench lines in Chalmette of the 1815 Battle of New Orleans that Andrew Jackson had won, although that was after the signing of the Treaty of Ghent (December 1814) had ended the war.
In all these travels I had never made sense of the war's main theaters, which were a series of American attacks across the Great Lakes, especially those of Ontario and Erie. The irony of the War of 1812 is that in response to the impressment of sailors on the Atlantic Ocean, the young United States decided to invade Canada. The so-called War Hawks in Congress were determined to "let slip the dogs of war." Messrs. Bush, Cheney, and Rumsfeld would echo the sentiments of Elbridge Gerry, who said in 1812: "By war, we should be purified, as by fire."
The 1812 museum had closed at 3:00 p.m., so Keith had to unlock the door and switch on the lights before he could tour me around the cabinets that showed the displacements of British and American forces on September 11, 1814. As he explained, on that day the British had decided on a combined land and lake attack on the American lines at Plattsburgh.
In the battle's first phase, a British squadron, led by Captain George Downie, would neutralize an American squadron on the lake and anchored in a line off the town of Plattsburgh. On land, while British regulars—many hardened veterans from Wellington's Peninsular campaigns—engaged American forces in front of the town, other regiments would encircle Plattsburgh to the west. In the planned coup de grace, the British would surround Plattsburgh, crush its defensive forces by land and sea, and end the war by marching down the Hudson, severing dissident New England from the mid-Atlantic states.
It was a sound plan that should have worked.
On that earlier September 11, however, nothing went right for the British, who were facing several brave and determined American officers, although beyond them, forces that might not even have been up to the standards of a ragtag army. Plattsburgh was poorly defended. Before the battle, those Americans able to muster and shoulder weapons had marched out of Plattsburgh to confront another British feint at Sackett's Harbor, leaving General Macomb to face the attacking 10,351 British soldiers with the militias from New York and Vermont, many of whom were wounded or merely school kids. The militias deployed around Plattsburgh as best they could, although the battle started on the lake, when the British squadron swept down on the American anchorage.
With many long-range cannons, the British could have remained out of American range and destroyed Macdonough's fleet as if sitting ducks. But the British commander, the feckless and indecisive Governor-General George Prevost, ordered Captain Downie to close with the Americans, who brought to bear their guns at close range, killing Downie and destroying the British fleet. (The battle later interested Teddy Roosevelt, who wrote: "… out on the lake at long range, Downie held an advantage. At close range, where his carronades could pound away, the advantage belonged to Macdonough.") The American commodore had been on the lake for several years and knew its winds and tides, while Downie had just arrived, although not without some of the arrogance that came with command in the world's most fearsome navy.
The battle would still have gone to the British had Prevost launched a frontal attack against Plattsburgh. For that assignment he had several aggressive and highly trained regiments, led by no-nonsense field commanders who had served Wellington with distinction. Instead, he gave these veterans the role of feigning a frontal attack and sent less experienced troops on the flanking move to the west. As Keith explained to me, that attack stalled when smaller American forces, deployed in the woods on either side of the thrust, unleashed withering small arms fire that prompted a British retreat.
Keith quoted the disgusted British General Robinson, whose troops were withheld from the attack: "We had no guides, no spies, and no plan." Bornemann writes: "Had not Macomb and Macdonough [the American commanders] made their stand, a British general less defensively inclined than Sir George Prevost may well have ended up spending the following winter in Albany if not New York City." Such a march to the sea would have done for the infant United States what General William T. Sherman's campaign did for the Confederate States of America: ended their experiment in secession and independence. Borneman quotes the naval historian Admiral Mahan: "…the battle of Lake Champlain, more nearly decisive than any other incidence of the War of 1812, merits the epithet 'decisive.'"
Keith gave me a signed copy of his book, The Battles at Plattsburgh: September 11, 1814, and dropped me at the ferry docks just outside the town. Instead of going north to Montreal, I had decided to cross the lake on a boat and spend the night in Burlington, VT, where my mother and sister had attended the University of Vermont. I was the only foot passenger on the ferry from Cumberland Head to Grand Isle, VT, and at sunset got an excellent view of the waters through which the Royal Navy would have sailed toward their destiny against the American squadron. Once across the lake at Grand Isle, however, I had no way to connect to Burlington, about twenty miles to the south. Hitchhiking struck me as a dated option (my age, not the concept), so I accepted traveler's defeat and called a taxi company, which sent a young couple in a beat-up sedan to drive me into Burlington. Along the way, I was given a full plot summary of many Stephen King novels and encouraged to find a few while in Burlington. At least I promised to go to a bookstore.
The taxi dropped me on the main street of Burlington. Because school was starting that week, the local inns and hotels were booked, leaving me no choice but to stay at the youth hostel. For dinner I ate at an outdoor restaurant on the Church Street Marketplace, a brick-lined pedestrian street of funky shops and bars. With uneasy matriculating freshmen eating dinner with their equally nervous parents, I felt autumn more than late summer in the air.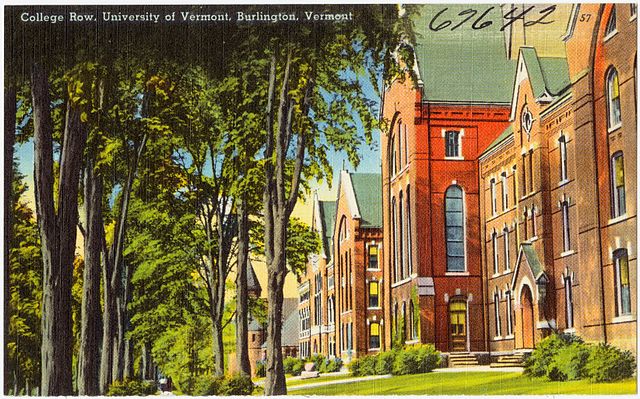 ---
The next morning, before catching a Greyhound bus to Montreal and my flight home, I strolled around the campus of the University of Vermont, which is up the hill from Burlington. I had not been back since my sister graduated from college in 1983 or since my mother had died the previous summer. The campus was getting a facelift for the incoming freshman class, and the sound of lawnmowers wafted on the late summer breezes.
I went into the old library, now an administration building, imaging that when my mother was on campus (1937-41), she would have studied in its rafters. I don't recall now that she had a major or a concentration, other than the requirements for the bachelor of arts degree. From her books, I knew that she had studied Spanish, history, English, psychology, composition, and other subjects, and had gone on to get a master's degree in social work from Columbia University. When she spoke about her undergraduate years, however, it was to recall with delight that she had been among the first on campus to take up a new sport called skiing. She and her friends had carried rudimentary skis to a nearby mountain, trekked up the hill, and skied down. She recalled it as exhilarating.
Beyond walking around the campus—a blend of small college architecture at the core and state-university buildings on the fringes—I went to the campus bookstore to figure out if my nephew might like the university. Classes were soon to start, so I got an excellent look at the required reading. The English courses struck me as trendy or pedantic, and I couldn't find any books for the period of American literature that I love—from Herman Melville to F. Scott Fitzgerald, with detours through the novels of Dreiser and Cather (who my mother read while at Vermont). Nor were the history courses much more inspiring. I found only one course about the Vietnam War that might have tempted me.
More than my father, although he read widely, my mother supervised my summer reading lists. She would take me to the Port Washington Public Library so that I could check out what I needed or maybe have run me over to Brentano's book shop in Manhasset for the paperback editions. Moreover, she would have had an eye over my reading shoulder, to see that I was making some progress with Hard Times or Lord Jim. (I wasn't.) Had she been more attuned to the reading habits of a twelve-year-old boy, she would have known that I was sneaking passages of The Quality of Courage by Mickey Mantle or Vince Lombardi's Run to Daylight. But her views on reading were close to Dr. Johnson's, who said to Boswell: "I wish you had read more books. The foundation must be laid by reading. General principles must be had from books. But they must be brought to the test of real life. In conversation you never get a system."
It was also from my mother than I got the habit that summers were there for what might have called "personal betterment." When I was fifteen, before could legally bag groceries or pump gas, my mother signed me up for several summer school courses to enhance my "reading comprehension." One course preached the value of speed reading and taught us the rudiments of the tricks that allowed President John Kennedy to knock off a book while knotting his necktie. Another summer course emphasized the merits of topical sentences and introduced me to such alien concepts as metaphor and symbolism. I went so cheerfully to these summer classes that next she signed me up for typing, taught by a stern professional stenographer with ramrod posture and a ruler that she tapped on our arms whenever a dreaded typo crept into the QWERTY exercises. The typing trade-off was that, in the afternoons, I could sign up for an ice hockey camp taught by several New York Rangers, none of whom required I read anything more demanding than an autograph book.
My mother sounds like more of a taskmaster than she was, but she did expect her children to have their noses in summer books. She grew weary when all I ever wanted to read were those about baseball and football. We discussed his ideas about children and television—a lot—but I don't think my mother ever read Postman, though I know she agreed with his conclusion: "almost every scholar who has grappled with the question of what reading does to one's habits of mind has concluded that the process encourages rationality."
In my mother's world, only good things came from reading, which is why she left me along when I would spend Christmas vacation reading Joe Namath's tell-all memoir, I Can't Wait Until Tomorrow … 'Cause I Get Better-Looking Every Day. I think she figured that eventually I might want to read something more—say, Boswell's confessional memoir.
Nevertheless, after that summer between ninth and tenth grades, my mother never again made suggestions on how I might improve my "reading comprehension" or what titles I should read with a flashlight after lights out. It was that summer, ironically, after the typing classes and ice hockey, I began reading a number of political memoirs, especially the Theodore White accounts about "the making of the president." Those reading excursions took me back further into American politics and literature, and eventually to a career in writing.
Forty years later, I will not get on a city bus without at least one book jammed into my briefcase. When I lived in New York, I considered it a defeat not to bring home each day a new book in my briefcase. My books-at-hand could stock the shelves of a small-town library, and my Kindle, well, looks like one of those Buckley summer reading lists. Miss Havisham, however, remains an uninvited guest, although Dickens did write in Great Expectations: "I am afraid to think of what I might have done, on requirement, in the secrecy of my terror."
Top photo: "Front porch. Sunday afternoon, Vincennes, Indiana" (1941) by John Vachon, courtesy of the Library of Congress and the United States Works Progress Administration.
Matthew Stevenson, a contributing editor of Harper's Magazine, is the author, most recently, of Remembering the Twentieth Century Limited, a collection of historical travel essays, and Whistle-Stopping America. His next book, Reading the Rails, will be published in 2015. He lives in Switzerland.