A New Monument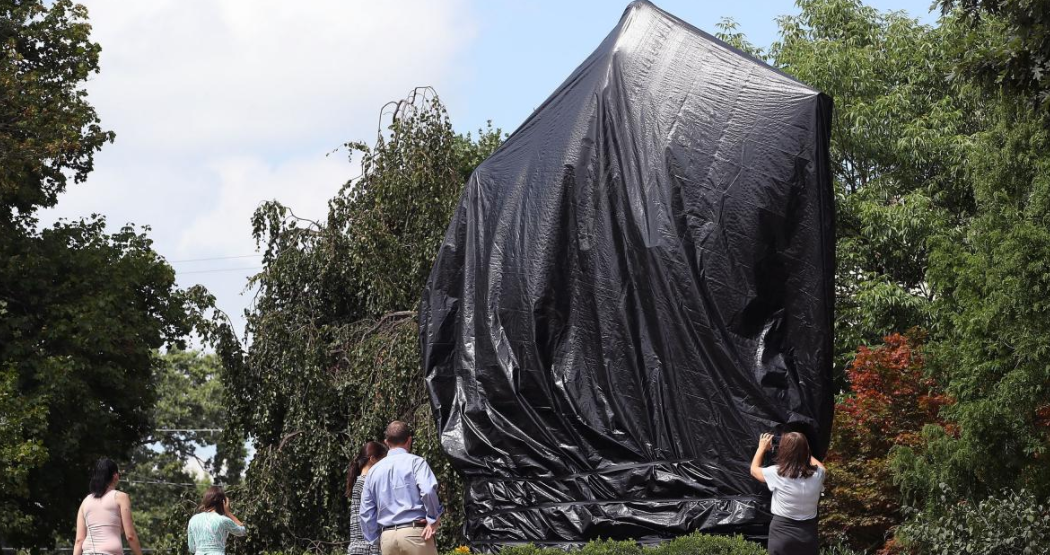 ---
Emancipation Park in Charlottesville, VA was, until recently, named Lee Park. In 1917, Paul Goodloe McIntire donated the land for the park, as well as the 26-foot monument of Robert E. Lee that was completed in 1924. As of the writing of this essay Lee and his horse, Traveller, still stand at the center of the park.
Across the street from Emancipation Park is the original public library, also gifted to the city by McIntire, along with furniture and 5,000 books. The old McIntire library faces the park, and the children's room used to be downstairs. The library moved next door in 1981, remaining across from the park, although no longer facing it. From the age of eight, I would walk the three blocks to the library alone almost every day: down the hill of my street, which housed no other children, past the usually empty McGuffey Park, and down a block to the edge of Emancipation Park. I loved the park's neat pathways, the flowers and trees, including a low one I could crawl up into. I was almost always the only person in the park. The statue was of little interest to me then, although I liked the horse.
When the library first opened in 1921, it was, like the schools, whites only. According to the Jefferson-Madison Regional Library website, "In 1934, the first branch library was funded by the City: the Colored Branch at Jefferson School. In 1948 the libraries were integrated." The schools in Charlottesville would take much longer.
In the early 80's, the nearby downtown pedestrian mall still had a Woolworths and empty storefronts and a dollar theatre and old furniture stores that gave shoppers Coke in a bottle. It also had Timberlake's drug store and soda fountain, which opened in its current location in 1917 and is one of the few businesses that remain in the re-invented downtown now populated with upscale boutiques, fair trade coffee shops, and a growing array of restaurants and bars. In the 80's, downtown was considered unsafe by many of the parents of my sister's classmates at the middle school, and they wouldn't let their children come over to our house. We were the only children living on our street. I continued to walk to the library alone, daily. The children's librarian, Lindsay, was the person I spoke to the most to on any given day.
When you live in a small Southern town, books are your portals to other worlds. I didn't know yet that other children had ever been denied them.
The televisions at the gym in suburban Chicagoland are packed in closely, so that the images begin to speak to one another, as if on a split screen.
In front of me are two screens: on the left, the Bud Billiken parade is broadcast on a local network affiliate. Founded in 1929 by Robert S. Abbott, the founder of the Chicago Defender, the parade is said to be the oldest and largest African American parade, and is second in size across the nation only to the Rose Parade. The focus is the celebration of education and the beginning of the new school year.  I learn all of this while on the treadmill. I have just moved to Illinois from Mississippi weeks earlier, and I have never heard of this massive parade.
The front section of an apparent parade favorite, the South Shore Drill Team, moves in formation across the television screen. I learn that they are a nonprofit organization that engages inner city youth in the performing arts. The young Black men wear black uniforms with gold and white trim, and they dance while tossing and twirling white wooden rifles. Their movements are flawlessly synchronized, every move carefully executed.
A melee of white males in a mismatched array of helmets fills the neighboring large screen. Some are holding real assault rifles, some are holding white shields with various symbols of white nationalism on them, some are wearing khakis and white polo shirts. They are gathering around Emancipation Park in Charlottesville, and although it is still more than thirty minutes before their "Unite the Right" rally is slated to begin, shouting and fistfights have broken out. On the screen, a man is punching a young woman. There doesn't seem to be any police interference.
On the left hand screen, a group of young Black girls are beaming and dancing in their leotards. The children in the crowd have been given backpacks with school supplies funded by Chance the Rapper. Families cheer from behind the parade barriers.
On the right hand screen, the "Unite the Right" men knock down the barriers the police have placed to separate rally members and the counter protestors. Video shows more men in white polos filing into the streets with backpacks, carrying flags and sticks and guns. Some have long beards and tattoos; some are younger and clean-shaven. Many of them are smiling. There are a handful of women among the hordes of men.
They come from all over the country. Some of them are college students.
My student Khadija asks if it would be okay to ask me a personal question. It is 2015, and we are walking back to my office from Special Collections at the University of Southern Mississippi's McCain Library & Archives, where we have met with a small group of students who are planning a Black History Month poetry event with me. Each student will present poems by Black poets over the last 250 years, moving chronologically forward until we end with poems by a few of the students.
This young woman had been my student the semester before in my World Literature course, a required general education course. Out of forty students in that class, only one had heard of Emmett Till before I assigned poems about him by Cornelius Eady, Gwendolyn Brooks, Audre Lorde, Marilyn Nelson, Jake Adam York, and Elizabeth Alexander. Out of forty students, only one had read Toni Morrison before. Even Mississippi's own Natasha Trethewey, then both the state and U.S. Poet Laureate, was new to them. My Black students tell me that they rarely, if ever, read Black writers at their elementary and secondary schools. Several of them know Maya Angelou's poems from friends or people at church.
They want more.
The next semester, although they are not in my class anymore, eight students choose to regularly spend lunch hours at the library with me preparing for a Black History Month event I've organized.  Our meetings mostly consist of me bringing out piles of books and anthologies for them to read and check out. In order to encourage them, I have rounded up scholarship money for awards for best presentation and best original poem from the Office of Multicultural Programs and Services, the Theatre Department, and the English Department, but for this first year, the participating students have all signed up before they even know about the awards.
On this particular Thursday, the librarian at Special Collections had brought us a trolley of my latest requests, which included a collection of poems by students who were in the Freedom schools that took place there in Hattiesburg in 1964. From these poems, my student Brittany chose Alice Jackson's "Mine" for her contemporary choice for our upcoming reading. Jackson's ends with the following lines:
I want the things my ancestors
thought we'd never have.
They are mine as a Negro, an American;
I shall have them or be dead.
Khadija, however, hasn't found a contemporary poem yet that really speaks to her, so we are almost to my office, where we have plans to fetch her my copy of Lucille Clifton's Collected Poems, when I respond, "Ask me anything. What's your question?"
"Why do you care about this?" she asks me.
Closure was a common strategy to fight desegregation. Charlottesville public schools were desegregated in 1959, after being closed for a year to avoid the process. Virginia's Northern Prince Edward County schools would stay closed until 1964. The more effective strategy followed: segregation academies, private white schools then funded by state tuition grants, spread throughout the South. According to Sarah Carr, in The Atlantic's "In Southern Towns, Segregation Academies are Still Going Strong," 35 such academies survive in Mississippi, and that number stays that low only if you restrict the list to academies formed between 1964-1972 and with fewer than 2% Black students. You don't have to read an article to do the math in Hattiesburg: at Hattiesburg High School, the student population is around 95% Black, while the U.S. Census numbers for 2016 have the "Black or African American only" population of the city at 53%.
This means that a number of the students in my university courses are in fully integrated classrooms for the first time.
Libraries have been more successful in shaking their history of segregation. But in Hattiesburg, in 1964, when Freedom School teacher Sandra Adickes accompanied a group of her students to get their library cards from the then segregated public library, the library personnel called the police. They closed the library down for the day rather than issue library cards to a group of young Black girls.
Thanks to the University of Southern Mississippi's Center for Oral History and Cultural Heritage's Civil Rights Movement collection held at the McCain Library, Adickes and many others, both Black and white, both local and from out of state, have recorded their stories of the civil rights era in Hattiesburg. The collection's digital holdings include an interview with Raylawni Branch, one of the two women who led the desegregation of the university by enrolling in 1965. The collection also holds the stories of those who did not survive to be interviewed, such as Branch's predecessor, Clyde Kennard, a Korean War veteran who had completed three years at the University of Chicago when he returned to Mississippi to care for his mother and their family farm. He attempted to enroll at the University of Southern Mississippi so that he could complete his degree. He would have been the university's first Black student.
Kennard was repeatedly denied enrollment. When he persisted, despite continued discouragement and a false charge, in 1960 he was framed for the theft of twenty-five dollars worth of chicken feed and sent to prison in the Delta, where he was made to work the cotton fields. There he would protract colon cancer, and be denied treatment. His sentence was finally suspended in 1963, and he died months later.
In 1993, the University of Southern Mississippi's Student Services building, which was once the campus's main library, was renamed Kennard-Washington Hall, after Clyde Kennard and Dr. Walter Washington, who in 1969 became the first African-American to be awarded a doctorate from the university. When I began my job at the university in 2012, the interim president was the same man who had denied Kennard enrollment as the director of admissions. McCain Library is named after the university president of Kennard's day.
Tell a New Yorker or a Bostonian that you live and teach in Mississippi, and there will occasionally be an actual physical recoil, most often by other white people who seem to see the South as the sole repository for racism. Perhaps this makes it easier to ignore the lack of diversity and racism in their own communities. Perhaps those who have never been to the South do not have much of a sense of the diversity found there, or have forgotten about the citizens who are not represented by the political acts of their states or communities. Perhaps these people haven't considered the South at all.
Most of my undergraduate students at the University of Southern Mississippi were from Mississippi. The student population is around 30% Black, which is slightly lower than the state percentage of 37.7%. There were out GLBTQ students in every course that I taught. There were sorority girls—Black and white—and students from all majors and students who suffered from depression and/or anxiety. Many students were mothers who wrote about their children. Common topics were Black hair and grandmothers and God and love and self empowerment and childhood memories. There were also poems about Bonnie and Clyde and Mickie Mouse and the weather. Across race and gender lines, students wrote about faith and about being survivors of sexual violence, sometimes both in the same poem. There was incredible talent among my introductory course students, who included a trans woman who modestly revealed to me that her poems from class were being published in the Denver Quarterly and a Black man in the army who wrote a poem about Mike Brown that would win the Robert Hayden Award at our Black History Month event. One student on the spectrum composed a beautiful piano setting of one of the poems that we read. They were both like poetry students everywhere and also unlike students I had ever taught before.
They, too, are the South.
And then they had me, white, and not visibly queer, with my occasional rhyming mishearings that we all laughed about because my hearing aids couldn't always catch their voices across our vast classroom's fixed auditorium seating.
Teaching poetry also allowed me to bring other voices and perspectives to the front of the room with me, whether through the books I assigned or through the poets I brought in for the Visiting Writers Series that served both my doctoral students and these undergraduates. Like a librarian, my job is to make connections. I never know when or where the connections will happen.
A young black man in my introductory literature course in poetry looks up from Ada Limon's poem "Prickly Pear and Fisticuffs," which we are reading the week she comes to campus. He looks surprised.
"This," he says. "This! What she's saying. This is how it is to be Black and be around white people, too."
I first heard of Vernon Dahmer during the summer of 2014, when I attended the Freedom Summer 1964-2014 Conference that my then colleague Dr. Sherita Johnson organized at the University of Southern Mississippi. The speakers included those who had participated in Freedom Summer as activists, including local Black women who had been at the forefront of the movement, and those who had attended the Freedom Schools as children.
Of course, I already knew that white supremacists were not only the nighttime terrorists in sheets then, just as they are not now. They were those who closed the libraries, who refused school registration, who denied voter registration, who denied service at restaurants. They were also, I learned that weekend, the juries and judges who found Kennard guilty, who failed to condemn Klansman Sam Bowers for Dahmer's murder during the first trial. They were those who, in response to Brown vs. the Board of Education, formed the Citizen's Council as well as the insidious Sovereignty Commission, an organization created by the Mississippi legislature whose primary actions included widespread surveillance of activists and citizens in order to preserve segregation and prevent Black citizens from voting.
It was there in Mississippi that I first heard the stories of the local Black Mississippi activists who fought within these very communities that harmed them. I had never heard of Kennard or Dahmer. I had never heard of Fanny Lou Hamer and Peggy Jean Connor, two Black Mississippi women who instigated national changes through their actions. I had never heard of the Mississippi Freedom Democratic Party. And I had never heard of Vernon Dahmer. I went to the web, and to the library's online oral history archives, to learn more.
In 1966, Black businessman and local NAACP president Vernon Dahmer offered to collect, and even pay, the poll taxes of Black citizens who had been continually blocked, through various tactics, from registering to vote. The next night, members of the White Knights ignited twelve gallons of gasoline and shot weapons into the Dahmer home. Vernon Dahmer and his family, including his younger children, were firebombed in their own home in Hattiesburg while sleeping. (His older children were away serving in the military.)
Let me repeat this: these members of the Klan attacked the Dahmer family in their home with firebombs and guns while they were sleeping. Dahmer's wife and children survived. Dahmer died the next day in the hospital.
He was murdered for supporting his fellow citizens in their attempts to exercise their right to vote. He was murdered for actively working against white supremacy.
Heather Heyers was murdered in Charlottesville for joining in this fight over fifty years later. When the counter protestors peacefully filled the streets of Charlottesville, trying to reclaim those streets with their connections to one another and to the city most of them live in, a white nationalist from Ohio rammed a car into their bodies. In one of the photos, you see bodies flying in the air at the moment of impact. Many of those injured were young people. A leg flying up behind the car belongs to a high school classmate's son, who somehow survived with minor injuries. Others were seriously injured, and Heyers was killed.
It is 2017 and white supremacists are still committing murder. They don't even need a hood.
One of the stories that stuck with me from the Freedom Summer conference was a quieter one. A woman recalled how when she was a girl, on those hot Mississippi summer days she would look at the shaded bench in the park next to the Hattiesburg courthouse and long to go sit there and rest when she and her mother walked downtown. The park was for whites only.
On August 12, 2017, Charlottesville's Central Library was closed to protect its patrons. It was a Saturday, the one day many working families can take their children to the library or the park. Across the city, parents and grandparents were explaining to children why they couldn't go to the central library or to Justice Park or Emancipation Park, or even the nearby  McGuffey Park, with its slides and swings. It was unsafe for any child to walk to the library or the park or to get ice cream sodas at the mall, to go to any of these places that are finally open to everyone. Black children were once again being sent the clear message, complete with guns and violence-spewing adults, that they were not welcome where they lived. In the aftermath of the attempted rally, the streets and neighborhoods and parks themselves re-emerged as visibly sanctioned monuments to white supremacy.
On August 12, 2017, white supremacists convened in Emancipation Park to once again claim the public park as "whites only."
On Monday, August 14, the Central Library in Charlottesville re-opened. A sandwich board on the steps read, "Libraries are for Everyone." The figures on the library's sign range in skin color, and a rainbow heart floats in the middle.  
Across the street, the monuments still stand. Weeks later, they will remain, although they will be covered in black cloth.
The children walking to the library walk past this.
Faulkner famously said, "To understand the world, you must first understand a place like Mississippi."
As a native Virginian who has lived all over the country, most recently for five short years in Mississippi, I'll rephrase this: if we want to try to understand our country, we must first try to understand Mississippi, whose past is a mirror to the present in America.
For which image are we looking at when we see the move toward private schools in order to prevent integration and the push to have state money pay for private schools? When we see the undisguised presence of the KKK and other white supremacist organizations online, in flyers on our lawns, marching through our streets and rallying on our public spaces? When we see news of murder by white supremacists? When the murderers of Black men and women are found repeatedly found not guilty? When white supremacists are openly in the government? When Black citizens are kept from voting?
America, watch out: you are looking more and more like the Mississippi of the 1960's.
In the preface to the collection of Freedom School student poems, Langston Hughes wrote, "If poetry makes people think, it might make them think constructive thoughts, even thoughts about how to change themselves, their town and their state for the better. Some poems, like many of the great verses in the Bible, can make people think about changing all mankind, even the whole world. Poems, like prayers, possess power."
Alice Jackson's 1964 poem includes the lines," I want to go to the best University/ and not be met with violence or uncertainty." The reality of how Black students are still met with this "violence and uncertainty" is captured vividly by the images of the torch-bearing racists marching across the University of Virginia campus.
So when I am asked to write this essay about literary community in Mississippi for the Critical Flame, I find myself thinking of those Freedom School students, and of the girls who were denied their library cards, and of my recent Mississippi students, and of the students of all ages in Charlottesville who are returning to the downtown library and streets and parks, or walking across their college campus there. I find myself thinking of the literary community of the future.
In one of the media's photographs of August 12, 2017 in Charlottesville, Virginia, a young Black woman who looks to be the age of my college students is carried on a stretcher, crying.  Her face wears a shock and devastation that I cannot forget.
"Why do you care about this?"
The monument I would build in Lee Park would be part of my answer to my student. It would be in conversation with the library across the street; it would be covered in the poetic voices that were once kept out of the stacks, the children's room, the parks themselves. Little girls running across the park and climbing in the trees could run their fingers over the words and learn them, could know that there was a need for their voices, could know what books to ask for in the library itself. And when they came to my college classroom, my interest in their voices would no longer be a surprise.
Rebecca Morgan Frank is the author of three collections of poetry, including Little Murders Everywhere, a finalist for the Kate Tufts Discovery Award, and Sometimes We're All Living in a Foreign Country, forthcoming from Carnegie Mellon UP. Her poems and essays have appeared or are forthcoming in such places as The New Yorker, American Poetry Review, Ploughshares, Harvard Review, Guernica, and The Los Angeles Review of Books. She is the Jacob Ziskind Poet in Residence at Brandeis University and co-founder of the online magazine Memorious.