A Book by its Cover
It's an unfortunate truth that—beyond making sure everything is spelt correctly—most modern publishers pay little attention to their hardcover bindings. Thousands of dollars may be devoted to design and artwork for jackets, but precious little money and even less effort is expended on bindings, the rationale being that no one ever looks at them. It's a pity: dust jackets tear, fall off, and suffer stains, leaving well-loved and well-read books looking ragged on the shelf. Things are now so bad that many printers stock only a handful of colored papers in their binderies, plus a few dull-looking headbands and a scant few colors of stamping foil. Cloth is soon to be a thing of the past, I fear, as is any sort of stamping or decoration on the boards themselves.
Fans of Coralie Bickford-Smith's stylish, colorful binding designs for Penguin's hardcover classics series know that things were not and are not always so. Bickford-Smith's work on these books revives and modernizes the stamped, full-cloth binding in a charming, decorative mode that has drawn new fans to chestnuts like The Woman in White by Wilkie Collins and Cranford by Emma Gaskell. Readers could easily pick up the same hoary texts in cheap mass-market paperbacks, but these more expensive hardcovers look great on the shelf. I have little doubt that design fans buy the books with no intention of reading them, just as Penguin intended. (In a shrewd move, the bindings are numbered, a step sure to encourage the completist impulse in even the more diffident collector.)
Designers and book-lovers who still appreciate an attractively bound hardcover will find much to enjoy in The Art of American Book Covers, 1875–1930 (Braziller, $34.95), in which Richard Minsky takes a broad look at publishers' illustrated and decorated trade book covers during the heyday of book-binding in the United States.
Minsky has a sharp eye for stylish, beautifully executed covers, and the book collects more than 140 choice bindings, crediting designers and publishers and discussing in detail the niceties of the more prominent artists' work. It's an impressive array: many of the designs have, as Minsky points out, the characteristics of art movements that came into existence years after the bindings were executed. The most striking of the selections is probably an unsigned binding for Richard Markham's Aboard the Mavis, a nautical title from 1880. Its printed-paper binding is a collage of fragmentary images that appear to be parts of larger illustrations, all of it assembled in an off-kilter, angular composition that suggests Robert Rauschenberg more than any art movement of the late nineteenth century.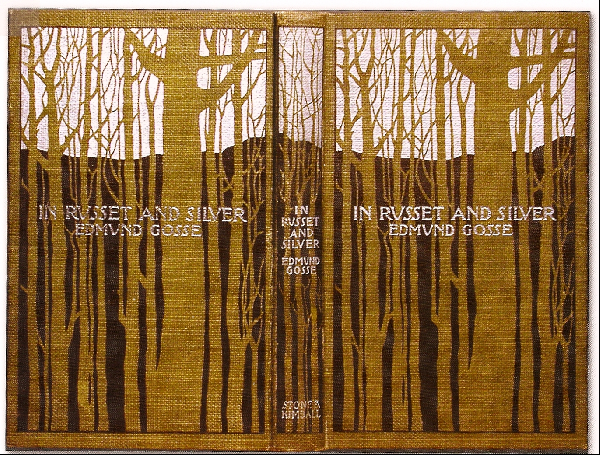 Screens of silhouetted trees (an Arts-and-Crafts-era favorite) figure prominently among the compositions, one of the best being Will Bradley's 1894 binding for In Russet and Silver by Edmund Gosse (right). Bradley played intelligently with the limits of two-color stamping, making the russet cloth an active element of the design (rather than mere background) and using silver and black foils to represent the sky and hillside beyond the brown trees.
Bradley's three-color cover for Uncle Walt by Walt Mason (1910) features a tautly drawn barroom scene that suggests Bradley was familiar with William Nicholson's London Types. Bradley boldly eliminates the author's name from the front panel, creating a richly colored image that is as striking as any poster of the era. Many of the designs could easily have been translated into larger posters, and some in fact were: John Sloan's cover for Cinder-Path Tales by William Lindsey may be familiar to some readers from a lithographed poster occasionally reproduced in anthologies of classic American posters.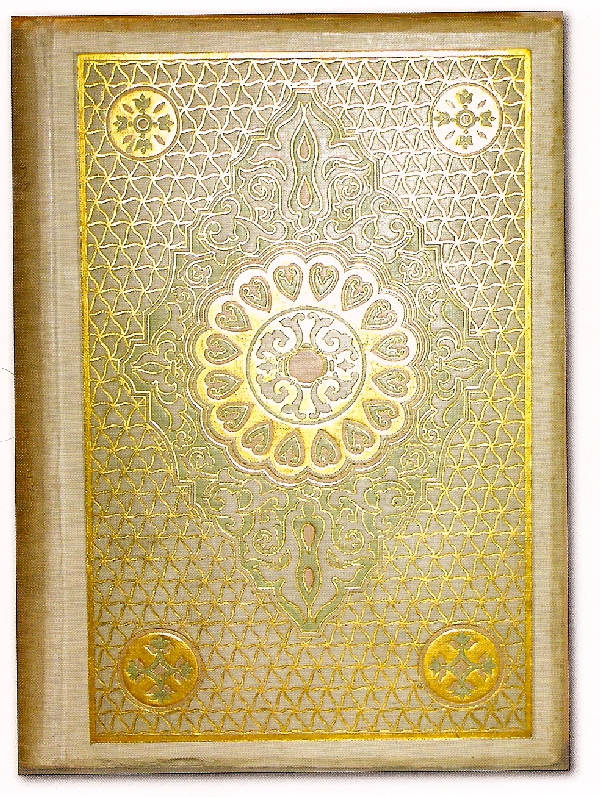 Minsky also does a fine job of outlining the importance of women artists, who figured prominently among the designers of the era. Both Sarah Wyman Whitman and Alice C. Morse are represented by handsome specimens of their work. Morse's binding for Chronicle of the Conquest of Granada by Washington Irving (left) is particularly splendid among the other non-pictorial bindings, and could nearly pass for a more expensive custom binding by one of the great European binderies like Sangorski and Sutcliffe.
The text is, as is common in specialist works like this one, serviceable. Lots of names and dates that prove the author did his research—including a bibliography and a table of artists' monograms—but a little shy on technical details of engraving techniques and stamping processes that might be more instructive to the working designer of bindings. It is unfortunate that the Minsky's point of view is so U.S.-centric. Although many of the influences in play here clearly originate in Europe and Asia, the author only loosely sketches these relationships. Most glaringly, he fails to acknowledge Aubrey Beardsley's significant influence on Art-Nouveau binding imagery and technique, even though it is abundantly evident among the bindings shown here.
As a designer, though, I look to this sort of book primarily as a visual reference, and here it does not disappoint. Although a few bindings suffer from poor photography and a few more close-ups showing the depth and detail of the more elaborate stampings would have been welcome, most of the covers are very carefully reproduced from examples in excellent condition. The colors are bright and rich; the gold stamping sparkles. It all makes me a little jealous of the variety of materials and finishes available to the working designer of 120 years ago. With any luck I'll get to adapt one of these memorable bindings to a book I design.
Carl W. Scarbrough is a book designer and the former art director of David R. Godine, Publisher, in Boston.